What Is Your Favorite Holiday Season Tradition?
Nochebuena (Christmas Eve) dinner. Every year we have seafood paella and a crapton of other things to eat and our friends come over and we playing random drinking games to holiday movies. It's awesome.

Do You Have A Certain Holiday Movie You Watch More Than Others? If So What Is It?
It's not a movie but A Charlie Brown Christmas (1965) is always a go for me.


Show Us Your Favorite Decoration Or Pinterest Decoration You Wish You Could Have
I love this cookie cutter wreath...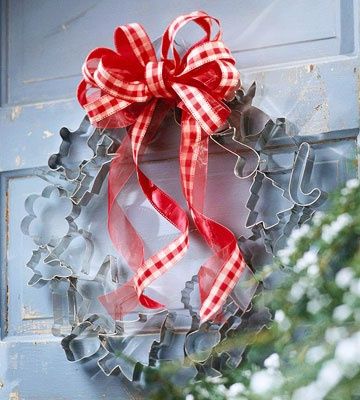 Favorite Holiday Dessert?
My mom's apple walnut cake.

What Is On Your Wish List This Year?
iPad ($499.00)
Cupcake Diamond Candle ($24.95)
Just Dance 4 Wii ($39.99)
Dead Fred Pen Holder ($9.99)
Kaleidoscope Necklace ($145.00)
TOMS Black Woman's Glitter ($54.00)
S.C.I.E.N.C.E. by Incubus Vinyl
Lady Gaga Fame Eau de Parfum Spray ($79.00)
Monserat De Lucca Lighter Ring ($55.00)
Batgirl Converse ($59.99)