About a month and a half ago "Lexie" invited me and another one of our friends to go with her to a taping of
The Daily Show with Jon Steward
and obviously I jumped on the chance to go because I love me a good TV show taping. So instead of just going in for the taping in the afternoon we decided to make a day out of it and chill in the city before heading over to the studio.
We got into the city a little before 12:00pm and decided to head over to
Cafeteria
(Which is like our TV show taping food stop every time) for a quick lunch.
After enjoyed our various meals (I got truffle oil mac & cheese with a side of truffle parmesan fries and a blackberry lemonade) we hopped on the subway uptown and headed to the studio. We waited online for a while and then they started giving out tickets. Once we got our tickets we were told to go do whatever for an hour and a half and then come back for the actual taping.
We all decided that we need some coffee and we walked around for a bit until we found this random little place where we basically hung out the whole time before heading back by the studio.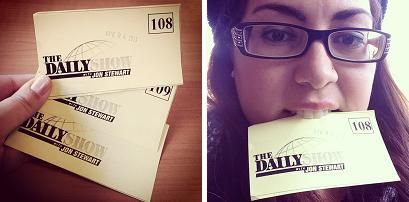 Before we were allowed to go in we were separated by ticket number and while we were waiting in our little numbered group I ended up dropping my iPhone and breaking the glass on the screen -- Which sucked so hard. Since I wasn't gonna leave and not go to the taping I texted Justin about what happened and turned my phone off like I was told to.
Once inside we got seats and watched the show. The guest was Oscar-winning film director Danny Boyle (He did
28 Days Later
,
Slumdog Millionaire
,
The Beach
,
Trainspotting
,
127 Hours
, etc.) and he was talking about his new movie
Trance
(2013) which actually looks really good.
Overall, you know aside from breaking my iPhone, I had a great day in the city and I'd totally love to do it again with the ladies.
NOTE:
I have some pictures on Instagram that I took throughout the course of the day but for some reason Instagram hasn't been working for the past two days.
NOTE NOTE:
Instagram works again, thus I added pictures!