Earlier this summer
JAKK Pacific
toys announced that they would be releasing a new line of "El Chavo" toys starting the 15th of this month and guess who has been given an opportunity to give some away! This librarian!
I was super excited when presented with the opportunity to do this giveaway because "El Chavo" is such an iconic character, members of my family watched and still watch reruns of this show (Even Erin has watched it!) and it's a great way introduce a character to you guys that you might not have ever heard of.
For those of you that aren't familiar "El Chavo del Ocho" or "El Chavo" is a Mexican sitcom that started back in 1972 centered around a poor orphan boy named El Chavo and his neighbors in the housing complex they live in. It started out a live action show and has since spawned an animated series entitled "El Chavo Animado" (2006-Present) -- Two of the seasons are currently dubbed into English. Seeing has the show has been on for 40+ years and I could go on forever writing about it, so here is a little video introduction...
Now lets get on to the fun stuff! One (1) lucky winner will receive a prize pack with the following...
"El Chavo" Prize Pack
*
- One (1) Mini Plush Doll - $4.99
- One (1) PVC Figure - $9.99
- One (1) set of Finger Puppets - $7.99
- One (1) Chavo Hat - 7.99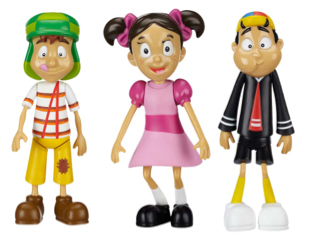 This is your standard Rafflecopter type giveaway, as all of mine normally are. Being a Bloglovin' follower to this blog and leaving a comment below about your memories of "El Chavo", favorite "El Chavo" quote or if this is the first time you've ever head of "El Chavo" are mandatory and gain you two entries. If you wanna do everything else specified in box below you will just get more chances to win!
a Rafflecopter giveaway
* I'm not exactly sure which Mini Plush Doll or PVC Figure you'll be getting but I'd assume it'll be El Chavo himself.
••••••••••••••••• CONTEST ENDS AUGUST 14TH AT MIDNIGHT •••••••••••••••••
This giveaway was sponsored but I did not receive monetary compensation. I'll be receiving my own El Chavo prize pack identical to the one the winner will get.