Last Thursday night I had the opportunity to attend the press screening of
Universal Pictures'
upcoming film
47 Ronin
in New York City, which is opening nationwide today.
Keanu Reeves makes an explosive return to action-adventure in 47 Ronin. After a treacherous warlord kills their master and banishes their kind, 47 leaderless samurai vow to seek vengeance and restore honor to their people. Driven from their homes and dispersed across the land, this band of Ronin must seek the help of Kai (Reeves)—a half-breed they once rejected—as they fight their way across a savage world of mythic beasts, shape-shifting witchcraft and wondrous terrors.
As this exiled, enslaved outcast becomes their most deadly weapon, he will transform into the hero who inspires this band of outnumbered rebels to seize eternity.
Helmed by director Carl Rinsch (The Gift), 47 Ronin is produced by Scott Stuber (Ted, Identity Thief), Pamela Abdy (Identity Thief, upcoming Endless Love) and Eric McLeod (Mr. & Mrs. Smith, Austin Powers series).
Genre:
Epic 3D fantasy-adventure
Cast:
Keanu Reeves, Hiroyuki Sanada, Ko Shibasaki, Tadanobu Asano and Rinko Kikuchi
Directed by:
Carl Rinsch
Screenplay by:
Chris Morgan and Hossein Amini
Screen Story by:
Chris Morgan & Walter Hamada
Produced by:
Scott Stuber, Pamela Abdy, Eric McLeod
Rated:
PG-13
47 Ronin
. I knew it was a fantasy-adventure, I knew there were samurai, I knew Keanu Reeves was in it and I knew that I liked two out of those three things.
Fantasy/Adventure
= ✓
Samurai
= ✓
Keanu = Eh
I'm going to be perfectly frank with all of you, I am not a really fan of Keanu -- Nope, not even in
The Matrix
(1999) or
Speed
(1994). When I think of Keanu I think of Paula Abdul's 1991 video for her single "Rush Rush" and
Bill & Ted's Excellent Adventure
(1989). But that being said, I didn't mind him in this particular film. Probably because he really didn't talk that much and I think that his voice is partially why I don't care for him -- I have voice issues, is that weird?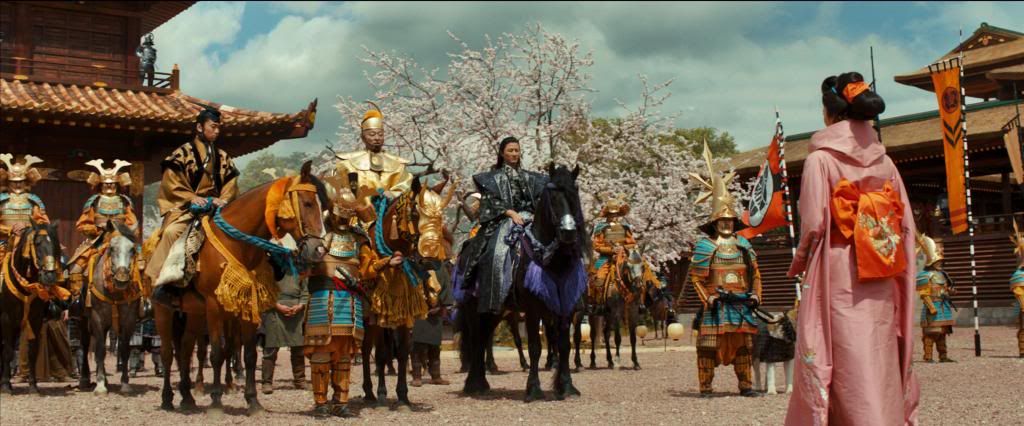 But I diverge, back to
47 Ronin
...
As your average everyday movie-goer, I enjoyed the film. I'm sure if I was up on my forty-seven ronin history and Chūshingura (Fictionalized versions of the real historical event) that I might not feel the same, but I'm not and so I thought it was a nice piece of escapism. There were excellent visual effects, awesome fight scenes and an interesting plot. In terms of the 3D, which I'm not typically a fan of, I thought that it enhanced the film and did not distract -- Which isn't always the case and I was pleasantly surprised by the appropriate use of the 3D.
47 Ronin
is not the best or worst movie I've ever seen but I think it did it's job and entertained me. I didn't feel like I wasted 127 minutes of my life when I walked out of the theater, so that is always a plus in my book -- I've walked out of many a movie with regrets and that was not the case with this film.
So if you're off for the holidays and looking for some entertainment go give it a shot. If not for Keanu, then for the beautiful imagery and sweet 3D action sequences. Lemme know if you do! I'd love to hear what you think about it.
I leave you with some 1991 Keanu in Paula Abdul's "Rush Rush" video...