Recently Day was looking for something to do due to an increase in her free time and I suggested that since she is an excellent bartender that she do some guests posts for me on making various drinks. She agreed and thought it would be a fun thing for us to do (Plus it gives us an excuse to hang out and drink during the week), thus "Day Drinking" was born.
Since Saint Patrick's Day is tomorrow we thought that we'd kick off "Day Drinking" with a few themed drinks...
• Jaume Serra Cristalino •
Midori
• Orange •
The St. Paddy's Day Mimosa is a great way to start off the day in a boozy way. Pour 1oz of
Midori
into a champagne flute, top with a dry champagne or sparkling wine (We like Jaume Serra Cristalino because it's
cheap
nicely price and tastes good), garnish with a slice of orange and enjoy.
The Green Lantern is a great tasting drink with a cool name. In a shaker with ice mix 1.5oz of
Midori
, 1.5oz of Orange Juice and 1.5oz of
Sprite
. Shake. Pour into a whiskey glass with ice, garnish and drink away.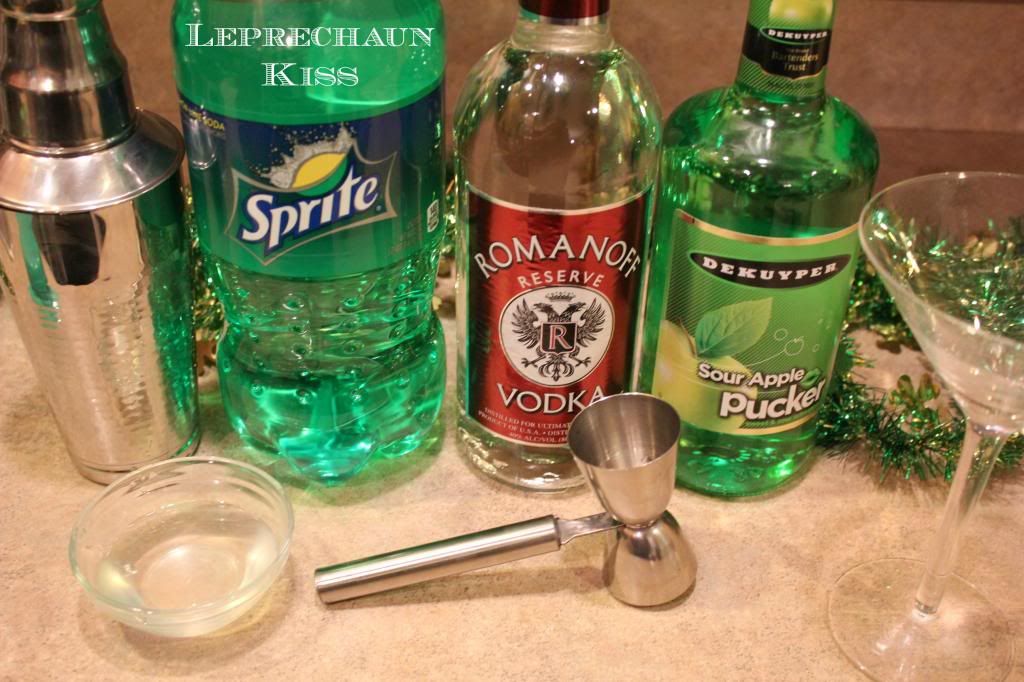 A Leprechaun Kiss is a great martini to have with the girls. In a shaker with ice mix 1oz
Sour Apple Pucker
, .5oz Vodka, 1oz Lemon Juice and .5oz Simple Syrup* (We used lemon simple syrup because Misfit always has some on hand for her cold brewed iced tea). Shake away. Pour into a martini glass, add a splash of Sprite or your favorite lemon-lime soda and sip away.
* To make simple syrup bring mix equal parts sugar and water in a sauce pan. Bring to a boil, make sure all of the sugar is dissolved in the water, cool and enjoy in various beverages.
To create this ode to the Irish flag in a shot glass you have to carefully layer
Jameson
on top of
Baileys
on top of Creme de Menthe (I recommend pouring the liquor very slowly or over the back of a spoon). Say your favorite Irish toast and knock it back.
Our favorite Irish toasts from
Irish Toasts by Karen Bailey
...
Here's a health to your enemies' enemies!
• • • • • • •
May you live to be a hundred years,
With one extra year to repent.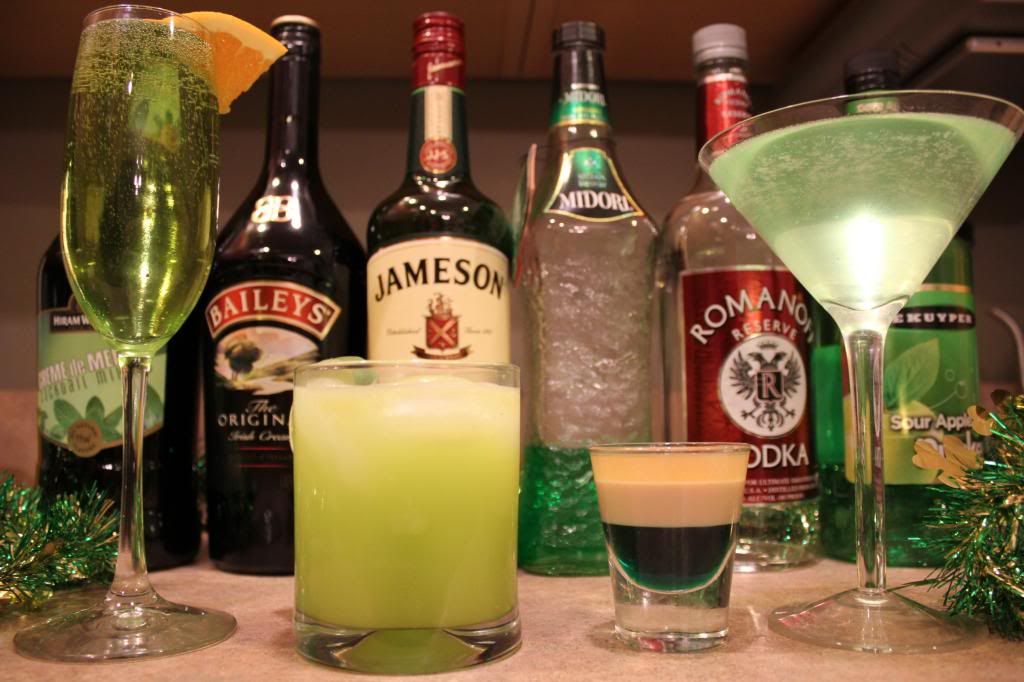 Enjoy and make sure to do so responsibly!
NOTE: This is not a sponsored post. This is just the booze Day and I like to drink minus that vodka, we got that because it was cheap and we needed it for that one drink. But as always, if someone wants to sponsor me that would be awesome.