Tuesday night I had the opportunity to see an advance screening of
A Million Ways To Die In The West
(2014).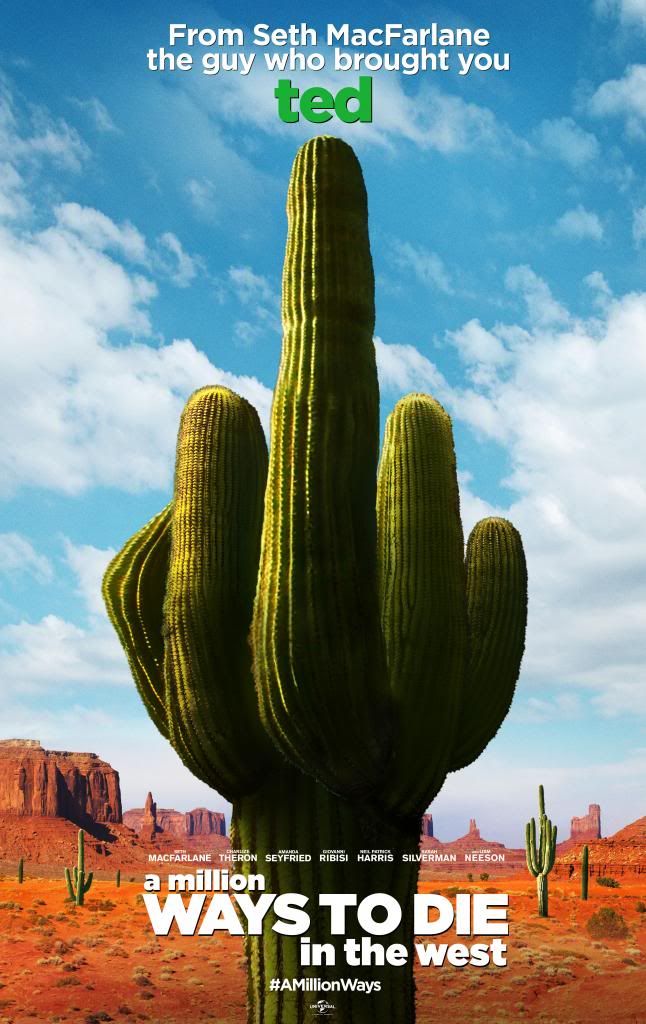 Seth MacFarlane directs, produces, co-writes and plays the role of the cowardly sheep farmer Albert in A Million Ways to Die in the West. After Albert backs out of a gunfight, his fickle girlfriend leaves him for another man. When a mysterious and beautiful woman rides into town, she helps him find his courage and they begin to fall in love. But when her husband, a notorious outlaw, arrives seeking revenge, the farmer must put his newfound courage to the test.



Starring alongside MacFarlane are Oscar® winner Charlize Theron, Amanda Seyfried, Giovanni Ribisi, Neil Patrick Harris, Sarah Silverman and Liam Nesson. MacFarlane reunites many of the filmmakers behind Universal and MRC's hit film Ted including Scott Stuber (Bluegrass Films) and Jason Clark who produce, and Wellesley Wild and Alec Sulkin who co-wrote the script.
Genre:
Comedy/Western
Cast:
Seth MacFarlane, Charlize Theron, Amanda Seyfried, Liam Neeson, Giovanni Ribisi, Neil Patrick Harris, Sarah Silverman, Christopher Hagen, Wes Studi, Matt Clark, Evan Jones, Aaron McPherson & Rex Linn
Directed by:
Seth MacFarlane
Written by:
Seth MacFarlane, Alec Sulkin & Wellesley Wild
Produced by:
Seth MacFarlane
Executive Producers:
Alec Sulkin & Wellesley Wild
Rated:
R
Release Date:
May 30th 2014
For this particular screening I brought Justin along with me because he actually wanted to come -- In the past I've asked him if hes wanted to attend all of the other screenings I've been to and he has said no every time, but he told me when he found out about this one that he was coming with me. So, the two of us left work early and made the trek into New York City to attend the screening.
When we got to the theater it was almost packed thirty minutes before the movie was scheduled to start, but we thankfully found a pair of seats next to each other in a decent row (No one wants to sit directly in front of the screen).
So for the thirty minutes before I talked to Justin and listened to the people around me make comments as to how they thought the movie would be -- It seemed that basically everyone near me had a positive attitude going into the film.
Fast forward... The film starts and people are cracking up from the get go (The smelly man next to me was laughing extra loud at all of the scenes, even to lines that I guess went over everyone else's heads). And basically the laughter continued throughout the whole 116 minutes the film ran.
But to get to the point of this whole review, I really enjoyed the film and so did Justin. We both thought it was a smart, funny and entertaining movie. So, it gets big thumbs up from us.
That all being said, I must note that I am a fan of Seth MacFarlane's work. I love
Family Guy
(1999-Present) and I really enjoyed
Ted
(2012), so if you don't enjoy him and his body of work I don't know if
A Million Ways To Die In The West
will be your cup of tea. But if you're open to anything and looking for a good laugh I'd very much so recommend seeing
A Million Ways To Die In The West
.
Lemme know if you are planning on going see it or if you already have! I'd love to know what you thought of it.