Monday evening I was invited to the press screening for
The Purge: Anarchy
(2014) which comes out Friday July 18th and I didn't get to go because I missed my train due to an annoying library patron -- Which I'm super bummed about because I enjoyed the first film and wanted to check this one out.
Even though I didn't get to see the film I thought that I'd share all of the info bits that I'd share if I was going to write a review of the film, because I can...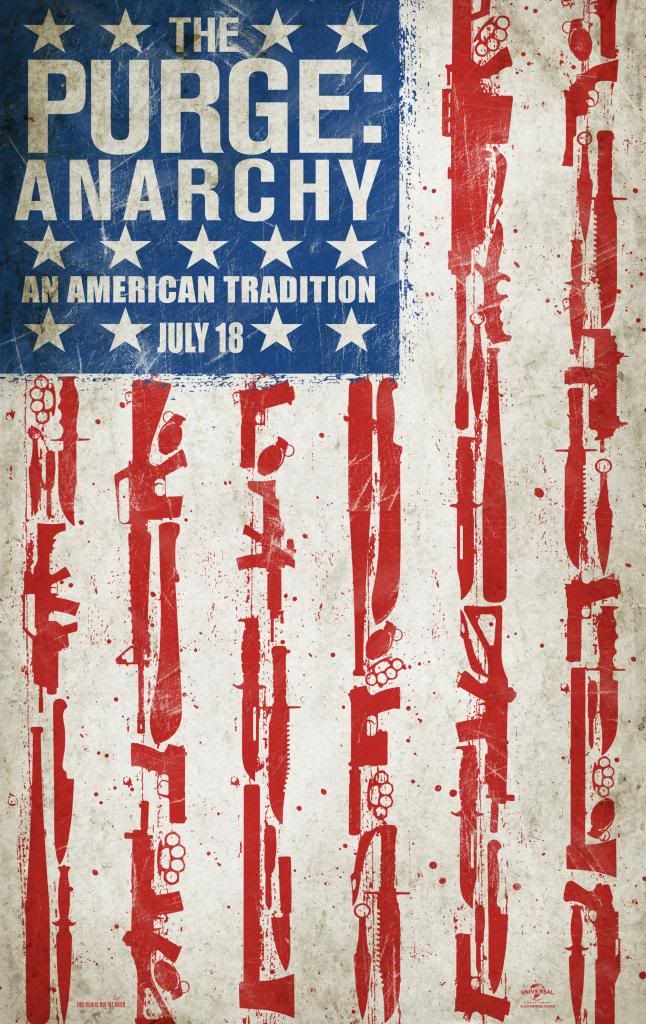 The New Founders of America invite you to celebrate your annual right to Purge. The Purge: Anarchy, the sequel to summer 2013's sleeper hit that opened to No. 1 at the box-office, sees the return of writer/director James DeMonaco to craft the next terrifying chapter of dutiful citizens preparing for their country's yearly 12 hours of anarchy.

Returning alongside DeMonaco to produce The Purge: Anarchy are Blumhouse Productions' Jason Blum (Paranormal Activity and Insidious series), alongside Sébastien K. Lemercier (Assault on Precinct 13, Four Lovers) and Platinum Dunes partners Michael Bay (Pain & Gain, Transformers franchise), Brad Fuller (The Amityville Horror, A Nightmare on Elm Street) and Andrew Form (The Texas Chainsaw Massacre, Friday the 13th).
Genre:
Thriller/Horror/Suspense
Cast:
Frank Grillo, Carmen Ejogo, Zach Gilford, Kiele Sanchez, and Michael K. Williams
Written & Directed by:
James DeMonaco
Produced by:
Jason Blum, Michael Bay, Andrew Form, Brad Fuller, Sébastien Kurt Lemercier
Executive Producers:
Jeanette Volturno-Brill, Luc Etienne
Rated:
Release Date:
July 18th, 2014
Since I couldn't go myself, maybe if one of you is interested in the film you can go and tell me how you liked it. If you are interested in the film
Fandango
is running a promotion where they are selling advance tickets for $2.00 off if you use the code PURGE2 at checkout.
NOTE: This was sponsored but not since I didn't actually get to see the film.