Hispanic Heritage Month starts on Monday (September 15th-October 15th) and what better way to celebrate than with food -- Which for those of you of Hispanic or Latin decent know is one of the main ways to celebrate any and everything. So I have some recipes for you from the wonderful people over at
Chef Merito
(For those of you unfamiliar with
Chef Merito
, it is a family-owned business that feature a full line of special seasonings, spices and herbs. Their products combine only the freshest and highest quality spices and are dedicated to enhance authentic Latin American, Mexican, and Spanish cuisine), as well as a giveaway!
Unfortunately I don't have time to cook anything and show you how I'd cook the recipes I've decided to share because I'm leaving for Greece, but I promise you when I get back I'll bust out my spices and show you some of their other recipes because there are a bunch that I'd love to try. So for right now here are some of
Chef Merito
's recipe cards...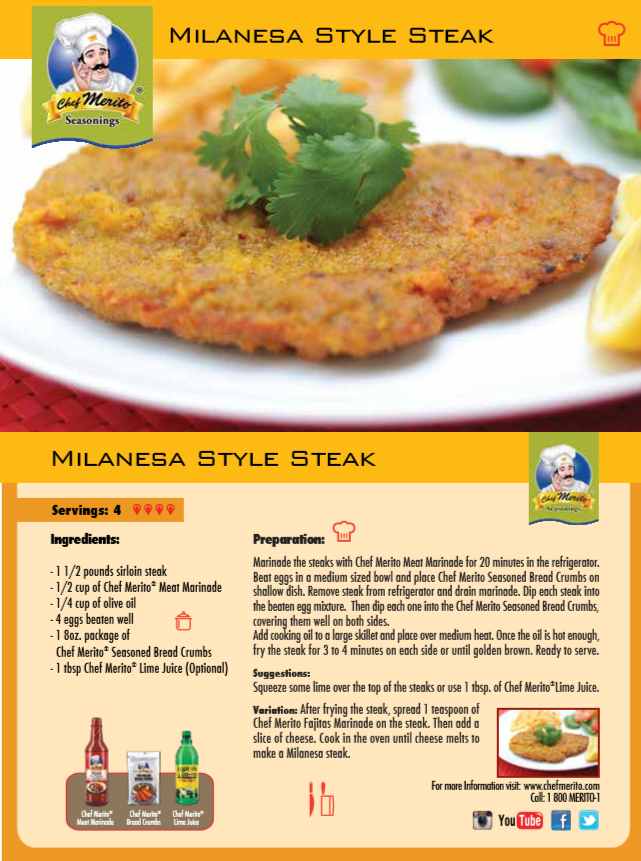 You guys know I don't eat meat, but I had to share
Chef Merito
's Cuban Steak recipe because it is one of my family's favorite dishes. Whenever I'm at a Cuban restaurant at least one member of my family orders it and it's a treat at my parents' house when my dad makes it.
And for people like me who don't eat meat,
Chef Merito
's Ceviche recipe might be up your alley.
If you'd like to check out any more of their recipes click
here
or if you have your own, I'd love to hear about them -- I'm always looking for something new to cook.
Now on to the giveaway...
One (1) reader will be receiving a
Chef Merito
gift basket similar to the one below.
This is a standard Rafflecopter giveaway. In order to be the lucky winner you must leave a comment below about your favorite Latin American, Mexican, Spanish, etc. cuisine and follow this blog using Google Friend Connect. You can gain additional entries by doing a number of other tasks listed in the widget below. Good luck!
a Rafflecopter giveaway
••••••••••••••••• CONTEST ENDS SEPTEMBER 24th AT MIDNIGHT •••••••••••••••••
This post and giveaway were sponsored but I did not receive monetary compensation. I'll be receiving my own Chef Merito Basket identical to the winners.