Even though my wedding was a little over two months ago I thought I'd post about my bridesmaids dress for several reasons.
My bridesmaids dresses were cute and inexpensive.
I've been out bridesmaids dress shopping for Lisa's wedding recently and the whole process is irritating, expensive, time consuming, etc.
I thought it might inspire someone else to look elsewhere besides a bridal boutique.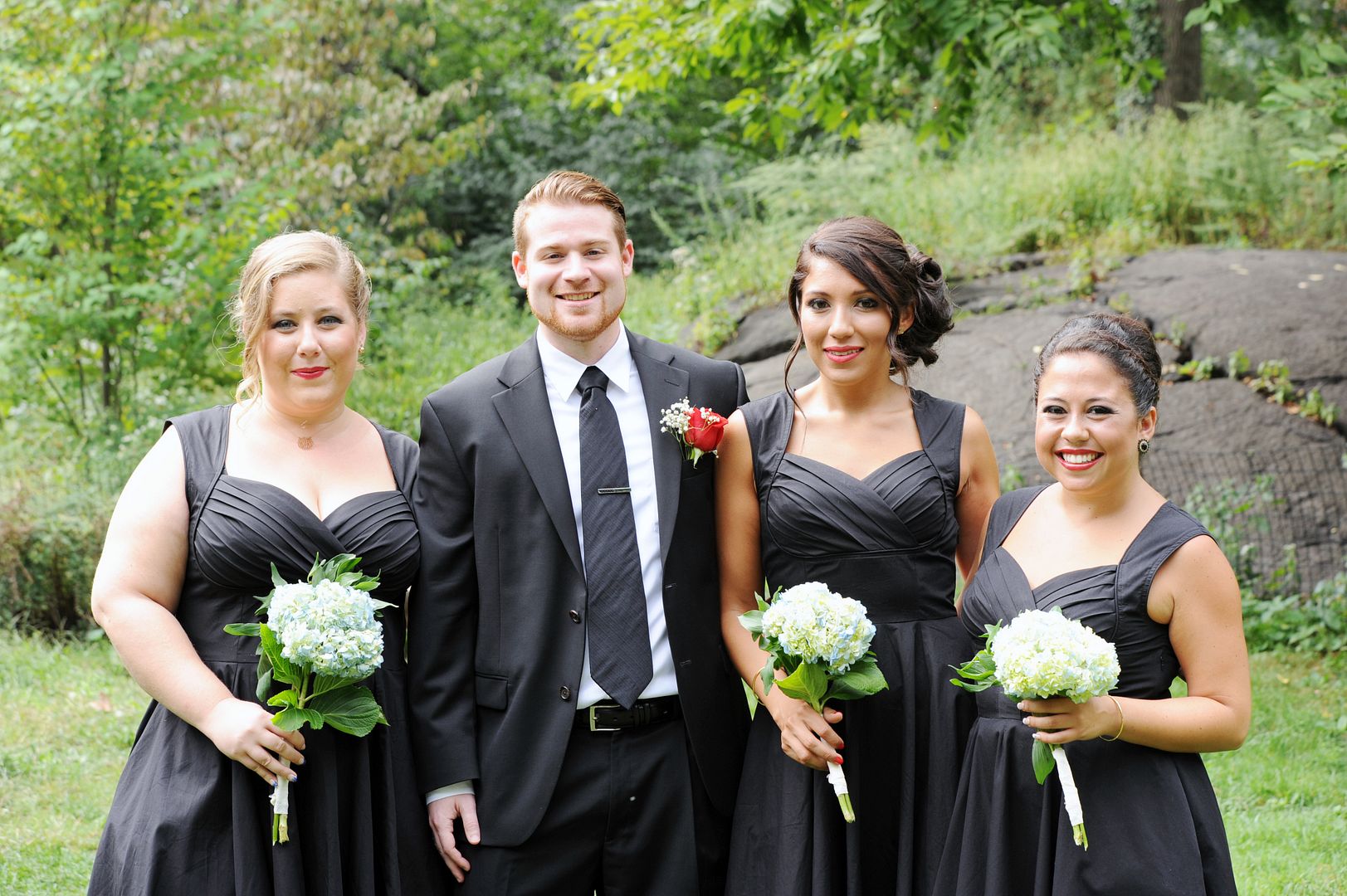 So while planning my wedding, unlike my cousin Lisa currently, I was very conscious of how I was spending my money and how other people would be spending their money to celebrate my wedding. So I really didn't want to make my bridesmaids spend an arm and a leg on dresses that they were going to only wear once -- Even I refused to pay a crazy amount of money on my own wedding dress, I bought my dress off of
ModCloth
for $139.99.
I also understood that I asked three people with three totally different body types to stand beside me for my wedding, which is something I don't think a lot of brides think about when they are picking out dresses they want their maids to wear (ex - Not calling ahead to see if the store has plus size bridesmaids dresses and wasting your fat bridesmaid's time).
So after looking at all the typical online bridal boutiques for bridesmaids dresses and one crazy fight on the boardwalk in Ocean City, MD with my sister (We got into a screaming match while on vacation over a website where you can rent bridesmaids dresses because she didn't realize that the sizes didn't go up high enough and it just wasn't going to work for everyone), I ended up on
eShakti
because I knew that they had an amazing range of sizes and the dresses were all moderately priced.
After a quick search through the site I saw the
Havana Dress
in black for $59.95 and I knew it was what I wanted the girls to wear (It also really helped that I had three bridesmaids and
eShakti
was running a buy two get one free special). The dresses fit into my accidental retro themed wedding, they were inexpensive, they came in all the right sizes and they were short and black, so they could be worn again. On top of that they photographed well and the girls were comfortable all day and night.
(Style # CL0028516)
So yeah, if you're having trouble finding bridesmaids dresses or a dress in general that is moderately price I highly recommend
eShakti
.
If you guys do pick something up from
eShakti
I would love to see it! Leave me a link in the comments or let me know on Instagram @MisfitLibrarian.
* eShakti did not sponsor or send me my actual bridesmaids dresses, the girls bought them with their own money during a buy two get one free sale the site was having. I truly love the dresses they wore, as did they or else I wouldn't be writing this post. The links to eShakti are referral links which I'm only sharing because I thought $25 for signing up was pretty sweet.