Last Friday night Justin and I were extremely extremely lucky people and we attended the
Foo Fighters
' concert at
Irving Plaza
. And for those of you that don't know about this particular concert (Which unless you were at big Foo Fighters fan or live in or around New York City, you probably don't know anything about), it was announced three days before the actual show, at a venue that only holds 1,050 people and it stated in all of the information that tickets were only available at the box office the day of the show, two tickets per person and people couldn't start lining up until 3:00PM that day and the tickets would go on sale at 5:00pm, etc. Oh, and the show was only $20.00 a ticket.
Foo Fighters
message board and wake up at 5:00AM the day of the show to see if a line started to form earlier than the official 3:00PM start time. And of course it did. So he woke me up a little after 6:00AM and we got dressed, hoped on the LIRR and headed into the city to go wait outside of
Irving Plaza
.
We got to
Irving Plaza
a little before 9:00AM and there was a line around the block -- Justin actually counted 120ish people in front of us at that time. So we started to wait on line, talking to the people around us about what
Irving Plaza
was going to do about the 3:00PM line time, etc. It was all really pretty chill with the exception of some dude who worked for
Irving
walking around telling everyone on line that we wouldn't get tickets, especially if he remembered our faces, blah blah blah.
Eventually about two hours in, people start running across the street, Apparently the people at
Irving
told people they couldn't wait on that side of the street but the line could be formed across the street, honestly it was weird and I still don't know exactly why they made us move because everyone was just standing in line talking to each other. So because of this like thirty people cut the line and got in front of us.
But we continued to wait because at that time we figured the venue held about a thousand people and thus they would probably sell tickets to 350-400 people because they could buy two and still have some left over for contests, guests, etc. -- Which actually funny story, our friend Justin (I call him "Other Justin") had texted my Justin about the show after hearing about it on Howard Stern and my Justin told the other about a contest Sirius XM had for their subscriber to win tickets and told him to enter, other Justin said it was his boss who had it and then talked him into entering. Guess what, he won tickets but at first he was going to bring his wife but thankfully he ended up bringing other Justin.
Okay back to us standing in a line for hours in the cold... We're waiting, talking, waiting, talking and then all of sudden people from
Irving
come around and claim that the police are concerned about the crowd (Apparently at this point the line is almost coming full circle around the block, plus there were protests a block away at Union Square about a lack of charges in the Eric Garner case), so they said they are going to give out wrist bands, but only to the first 175 people in line.
This is when things started to get chaotic. People on the line started getting pissed because everyone thought they'd be handing out several hundred. So they started pointing out people that cut in line, a few arguments broke out, etc.
At this point all we could do was wait and hope that we were within the 175. The line started moving up and we all just continued to grow nervous. The line kept moving and moving, we were almost to the front when we hear that all of the wrist bands were given out but they had 20 standby wrist bands and the next twenty people in line would be getting them. Justin and I were six people away from the front so we were lucky enough to each get a standby wrist band that would allow us each to buy one ticket if after 9:00PM there were still tickets available because people didn't show up -- So no actual guarantee to get in.
Once the twenty standby bands were given out the people who worked for Irving told everyone else to leave, but they didn't. Justin and I, along with our new friend Andi who also had gotten standby, booked it to the first warm place with seats which happened to be a
Panera
. We got warm drinks, a cupcake and hung around their for about three hours, checking Twitter and the message boards for information on what was going on at
Irving
because people were PISSED and rightfully so.
Eventually we left
Panera
and walked up past
Irving Plaza
again to see what was going on. There was a huge crowd of angry people outside of the theater, some waiting in lines and some not. It was kind of crazy. So we decided to kill sometime walking through a couple of stores before heading over to
Brother Jimmy's BBQ
because they tweeted about a happy hour special for people with
Foo Fighters
tickets and it was around the corner from where we needed to be.
We stayed at
Brother Jimmy's BBQ
for a few hours, drinking and continuing to check Twitter and the message boards, until Justin walked outside and talked with someone who worked at the theater inquiring what standby people should do. The employee told Justin that everyone with wrist bands who could by tickets were lined up across the street in number order and that we should get in line behind them. So he came back in, told Andi and I this and then we went to wait in the line, in the rain.
It took forever but they got through everyone on the line with actual wrist bands and then they got to us standby people. They rounded up all of us that actually waited/came back and walked us across the street and made us wait in number order behind a gate because they still didn't know if we'd be able to get in. They let all of the VIPs, guests and contest winners in before coming up to us and letting us know that we still might not get in.
At 9:40PM, forty minutes after the showing of the New York episode of
Sonic Highways
had started inside and twenty minutes before the
Foo Fighters
we scheduled to hit the stage the twelve standby people left were told we were all going to get in. We all cheered, got our tickets and ran in to get spots. Justin and I went to find other Justin who had been inside this whole time praying for us in Hebrew and Catholic (I guess...) and we got to watch the most amazing intimate
Foo Fighters
concert ever.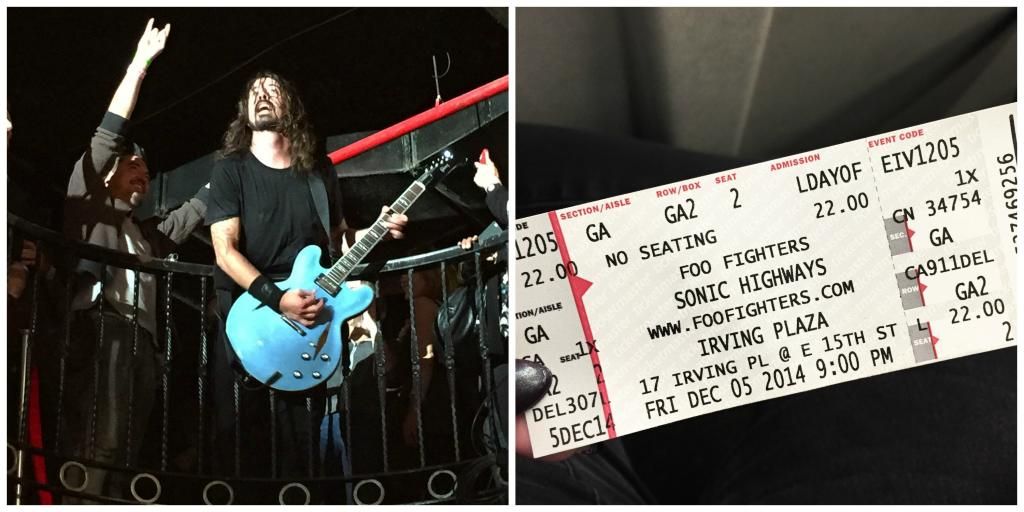 SETLIST
Outside
The Pretender
Learn To Fly
White Limo
Arlandria
Rope
My Hero
Hey, Johnny Park!
Monkey Wrench
Congregation
Walk
Cold Day In The Sun
I'll Stick Around
In The Clear
Big Me
Something From Nothing
Times Like These These
Days Miss You
(The Rolling Stones Cover)
Breakdown
(Tom Petty & The Heartbreakers Cover)
Under Pressure
(Queen & David Bowie Cover)
All My Life
This Is A Call
I Am A River
Best Of You
Everlong
So yeah, Justin and I spent 21 hours from start to finish on our
Foo Fighters
adventure and it was so worth it. I still cannot believe how lucky we were and I still feel for all of those people that waited and didn't get tickets. It was incredibly douchy announcing an event at such a small venue and giving more than half of the tickets away to VIPs and guests, and then not handling the lines properly on top of that was horrible. I'm glad to hear that the
Foo Fighters
' people had gotten the names and e-mail addresses of X amount of people to give them first crack at whatever other small event they do next in New York City. Hopefully the
Foo Fighters
and
Irving Plaza
learned a lesson from the chaos this show caused and will never decided to have weird line up times (Especially when the venue is across the street from a school that lets out at the same time you want people to line up for concert tickets) and then go back on them again.
I will say, Justin and I would have never hung around if we were told there were no tickets left to a show. I mean yeah, I would have been pissed I stood around for hours and didn't get a ticket but that's the gamble you take with that kind of event. So I don't understand why hundreds of people hung around for hours after the wrist bands were given out (Some people we spoke to believe that the theater was lying and that there were more hidden tickets) and I really don't understand why people flew/drove in from other states thinking they would get tickets to such a small show when the
Foo Fighters
sell out big arenas in a matter of minutes. But hey, to each his own and hopefully next time they play a bigger venue that more people can get into so there won't be so many angry people left out.