As you all know Halloween was last Saturday and even though I wasn't feeling it the week leading up to it, I got into the spirit the day of after running around with Day and helping her set up for her party.
We started off our Halloween by going to our favorite nail salon and getting our nails done, we followed that up with a trip to Michael's to pick up odds and ends to put the finishing touches on her costume, then we went to pick up a bunch of liquor to make drinks for the party, then we stopped by Amanda's to pick up some decorations she had, ate a quick lunch at a little panini place in town and then headed back to her apartment to set everything up and get ourselves ready.
We got the apartment decorated relatively quickly (Erin was with us at this point), so we started getting some drinks ready -- We made Angry Balls shots which is
Angry Orchard
and
Fireball Cinnamon Whisky
mixed together, as well as a concoction we called Witches Brew which was a combination of
Deep Eddy Ruby Red Vodka
, sparkling wine, grapefruit juice and mint simple syrup -- and drinking some drinks. And around 5:00PM we started getting ready.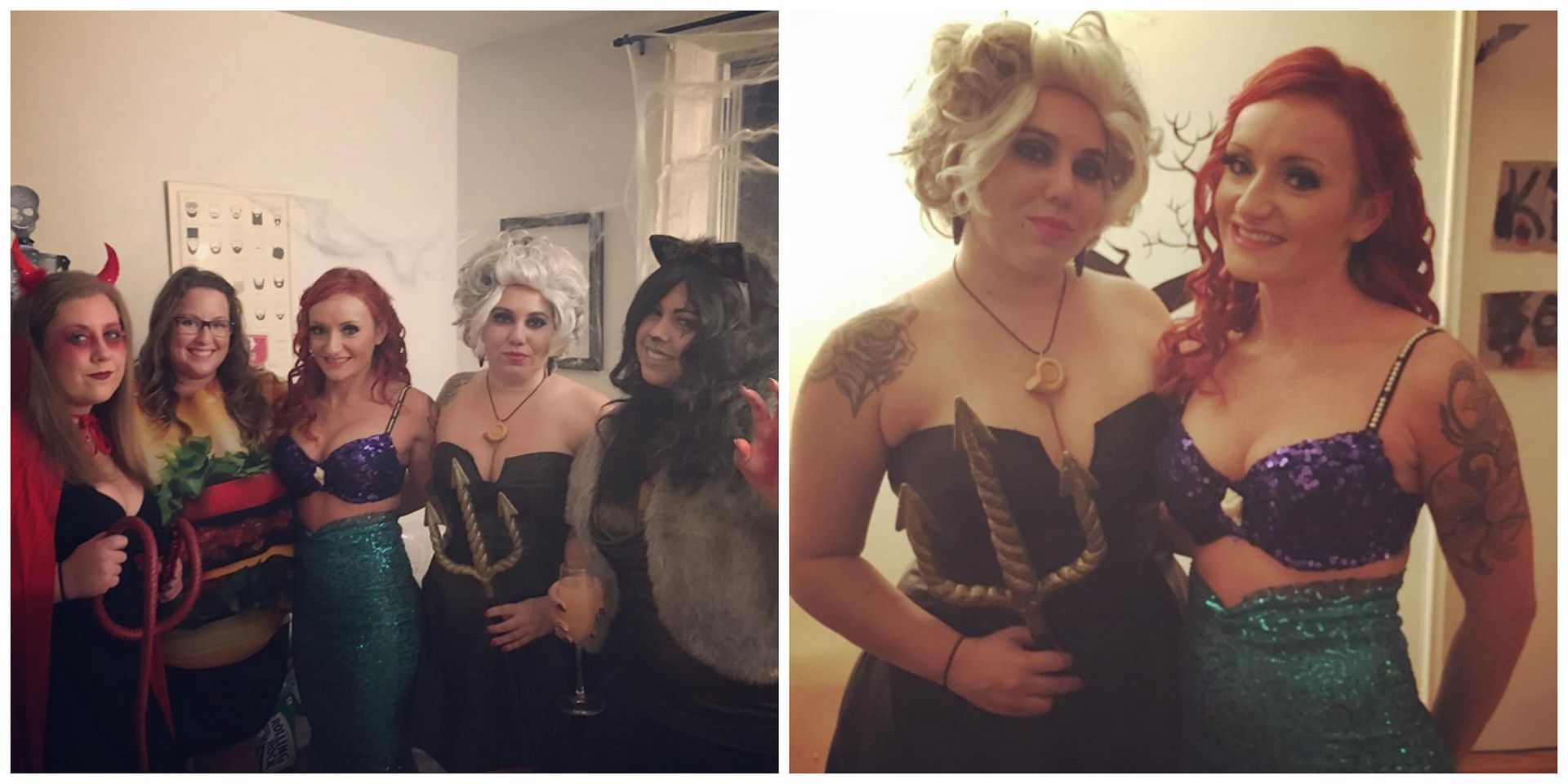 Unfortunately forty-five minutes into me doing Day's makeup we realized that the two types of body paint she bought sucked and she had to go take a shower, then we had to come up with a new game plan and start all over again. Thankfully the second time was a charm and her pretty Ursula makeup came out amazing.
Once I was done with her makeup I moved on to Erin's devil makeup and then my own, which looked good but because I couldn't find a brown dress to wear as my costume the whole look I was going for didn't end up happening. And instead of pretty Scar I looked more like a Jersey Housewife dress like a cat, whatever.
Eventually everyone trickled into the party and we had a grand old time pre-gaming before we decided it was time to hit up one of the local bars and dance the rest of Halloween (And then some) away.
I love Halloween and hanging out with my friends, so it was a great night. I can't wait until next year.