This past weekend my friends and I had our first Fat Kid Sunday of 2016. And for those unfamiliar with Fat Kid Sunday (Because I'm not sure if I've ever explained it or not), it's just a stupid name my friends came up with for the themed dinner parties that we throw about once a month -- It's honestly just a way or making sure we all get together, hang out and eat some yummy food.
So yeah, we had our first Fat Kid of the year yesterday and the theme was pizza. And this theme was honestly brought about because of one of those
Tasty
videos on
Facebook
(Which is how a bunch of our recent themes have been chosen), the one in particular was the
Cheesy Garlic Knot White Pizza Dip
which I had seen and tagged all of usual Fat Kids to.
Here are some pictures of the super yummy food my friends and I made...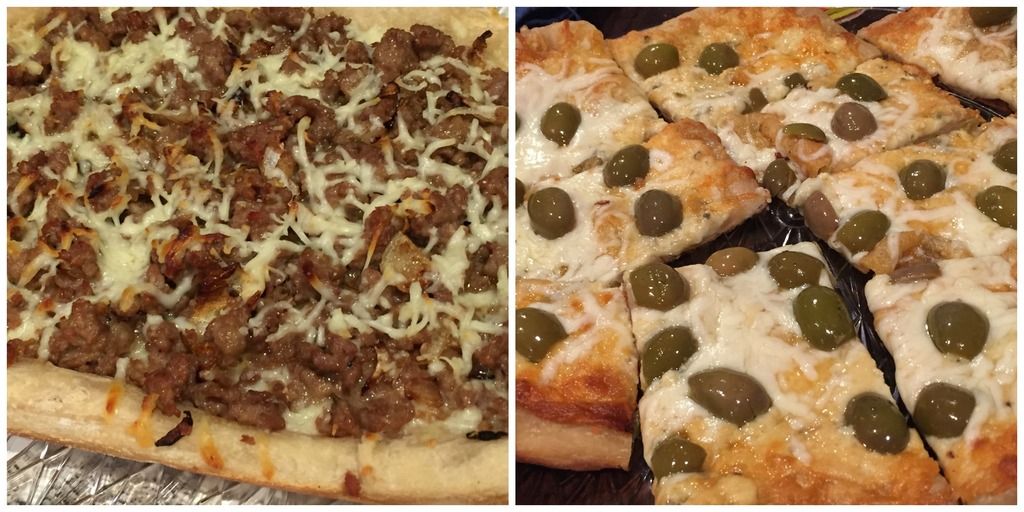 As you can see we made tons of food -- To be honest with you, we always make too much food. And it was all great.
I cannot wait until our next Fat Kid dinner because they are honestly so much fun. For those wondering, we don't have a theme picked out for the next one. We were contemplating a best of sort of theme but nothing is ever set in stone with us. But I know whatever it is it'll be great and you can bet that I'll be sharing it with all of you.
Do you guys do themed dinner with your friends? If so, what was your favorite theme? Even if you don't, shoot me a theme. We are up for trying almost anything.
•
•
•
•
•
•
•
•
•
•
•
•
•
•
•
•
•
•
•
•
•
•
•
•
•
•
•
•
•
•
•
•
•
•
•
•
•
•
•
•
•
•
Since it was one of the things I made, here is the recipe from
BuzzFeedTasty
for the
Cheesy Garlic Knot White Pizza Dip
:
Ingredients
Pizza Dough
8 oz Cream Cheese - Softened
1 Cup Shredded Mozzarella Cheese
1/2 Cup Grated Parmesan Cheese
1/2 Cup Whole Milk Ricotta Cheese
1/4 Cup Fresh Basil - Chopped
6 Cloves Garlic -- Chopped & Divided
1 Tsp Red Pepper Flakes
1/2 Cup Butter -- Melted
1/4 Cup Fresh Parsley -- Chopped
Directions
Divide Pizza Dough into 12-14 equal sized balls. With floured hands, roll the dough balls into logs and tie into individual knots, tucking the excess underneath.
Coat a 10 inch oven-safe skillet with olive oil. Place the knots in a ring around the skillet. Cover with plastic wrap and let rest for 30 minutes -- Allowing dough to reach room temperature.
In a medium bowl, combine Cream Cheese, Mozzarella, Parmesan, Ricotta, Basil, 3 cloves of Garlic (Chopped) and Red Pepper Flakes.
Melt the butter and add the Parsley and remaining Garlic. Stir well.
Uncover the Knots and scoop the dip into the center of the skillet. Brush the knots with the butter/garlic mixture (Reserving some for after baking), and top the dip with an additional sprinkle of cheese (Optional).
Bake in a preheated oven at 400˚F (200˚C) for 20 minutes. Broil on High for two additional minutes or until knots and cheese get lightly browned -- Watching closely so as not to burn it.
Remove from oven and brush lightly with additional Garlic Butter.
Let cool slightly before serving.
This was honestly awesome and you should give it a try!