Don't ask me why or how it happened, but apparently I haven't shared my hold books with all of you since last October -- Which seems crazy to me but whatever. That being said, I am once again going to make it a point of sharing my books with all of you and we'll start with this nice little stack that just came in...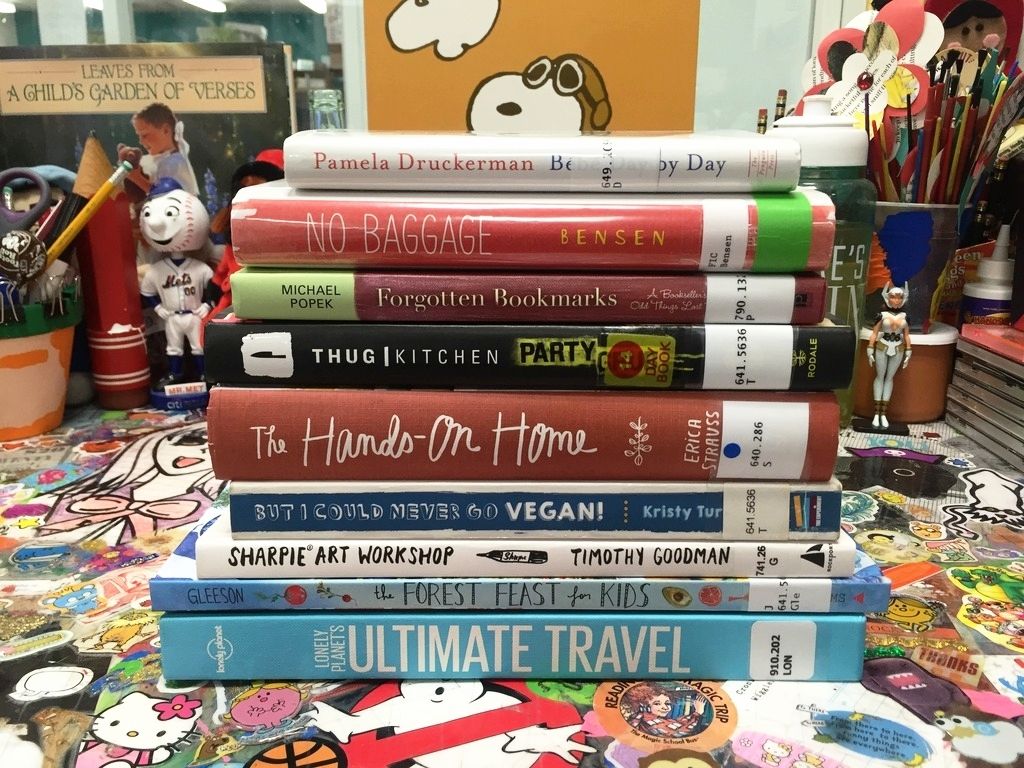 • • • • • • • • • • • • • • • • • • • • • • • • • • • • • • • • • • • • • • • • • •
Lonely Planet's Ultimate Travel: Our List of the 500 Best Places to See... Ranked
This compilation of the 500 most unmissable sights and attractions in the world has been ranked by Lonely Planet's global community of travel experts, so big name mega-sights such as the Eiffel Tower and the Taj Mahal battle it out with lesser-known hidden gems for a prized place in the top 10, making this the only bucket list you'll ever need. This definitive wish list of the best places to visit on earth is packed with insightful write-ups and inspiring photography to get you motivated to start ticking off your travel list. What's your number 1?
• • • • • • • • • • • • • • • • • • • • • • • • • • • • • • • • • • • • • • • • • •
"The Forest Feast for Kids: Colorful Vegetarian Recipes That Are Simple to Make" by Erin Gleeson
The Forest Feast for Kids includes the most kid-friendly favorites from The Forest Feast, along with 20 new recipes, plus ideas for kids' parties and easy-to-follow instructions on techniques, measurements, and other helpful kitchen aides.
The first children's cookbook from New York Times bestselling author and popular food blogger Erin Gleeson, The Forest Feast for Kids, serves up kid-friendly vegetarian recipes that are quick, easy, and fun to make. This cookbook showcases the rustic simplicity of the fare through vibrant colorful photography of Gleeson's beautiful home in the woods and of children cooking the dishes themselves.
Each meal is simple and full of fresh and lively flavors that will appeal to kids. The natural beauty of Gleeson's surroundings and the abundance of local produce serve as the inspiration for recipes such as:
Pesto Pepper Pizza
Rainbow Chard Quiche
Kale Tacos
Watermelon Smoothies
In addition to its recipes—which span meals, party food, snacks, and beverages—this nonfiction book includes ideas for crafty table decoration, party ideas, an illustrated guide on kitchen safety, and a glossary of culinary terms. The recipes are complemented by a mix of stunning photographs and art, including Gleeson's own fanciful watercolor illustrations and hand lettering.
This beautifully designed kid-friendly cookbook is perfect for foodies and parents looking for healthy recipes for children. It will also appeal to fans of Erin Gleeson's blog and The Forest Feast. Parents.com says "Have you ever wanted to crawl into a cookbook and live in its world? That's how I feel when I page through Erin Gleeson's gorgeous The Forest Feast for Kids."
Website
:
The Forest Feast
• • • • • • • • • • • • • • • • • • • • • • • • • • • • • • • • • • • • • • • • • •
"Sharpie Art Workshop: Techniques and Ideas for Transforming Your World" by Timothy Goodman
Bold and sharp, brilliant and vivid, Sharpie markers can be found in art, office, and stationery supply stores, drugstores, mass-market and crafts chains - almost anywhere writing utensils are sold. Sharpies can be used on virtually any surface, from the traditional (paper and canvas) to the unexpected (fabric, plastic, ceramics, glass, wood, stone, metal). In addition to the original fine point version, Sharpies are produced in five tip widths, several formulations, and in more than 30 colors, plus silver metallic. Their familiarity, accessibility, and clean, bold, dense line - especially the graphic impact that can be achieved with classic black - have made Sharpie markers the go-to medium for creatives of all stripes.
In Sharpie Art Workshop, designer, artist, and art director Timothy Goodman explores Sharpie writing products, the materials and supplies that can be used to enhance or modify them, and the range of creative techniques and effects that can be achieved. Through a series of examples and exercises, Goodman demonstrates how to make different kinds of marks, patterns, and images on a variety of surfaces. Inspiring works by noted artists from all over the world who use Sharpie in interesting and innovative ways are also included.
Sharpie Art Workshop offers ideas and inspiration to anyone who's looking to explore the creative potential of this exciting medium. So when you make your mark, what will you create?
• • • • • • • • • • • • • • • • • • • • • • • • • • • • • • • • • • • • • • • • • •
"But I Could Never Go Vegan!: 125 Recipes That Prove You Can Live Without Cheese, It's Not All Rabbit Food, and Your Friends Will Still Come Over for Dinner" by Kristy Turner
Can't imagine living without cheese? Convinced that dairy-free baked goods just don't cut it? Hate the taste of tofu and not a fan of boring salads? EXCUSES, BE GONE!
Blogger-author extraordinaire Kristy Turner deliciously refutes every excuse you've ever heard with 125 bursting-with-flavor vegan recipes for every meal of the day—including dessert!
"All those special ingredients are way more expensive." Not when you can make your own Homemade Seitan, Barbecue Sauce, Zesty Ranch Dressing, and Tofu Sour Cream.
"I could never give up cheese!" You won't miss it at all with Tempeh Bacon Mac 'n' Cheese with Pecan Parmesan, Tofu Chèvre, Citrus-Herb Roasted Beets with Macadamia Ricotta, or Mushroom Cheddar Grilled Cheese Sandwiches.
"What about brunch?" Chickpea Scramble Breakfast Tacos, Lemon Cornmeal Waffles with Blueberry Sauce, and Caramel Apple-Stuffed French Toast are vegan breakfasts of champions!
"My friends won't want to come over for dinner." They will when they get a taste of Carrot Cashew Pâté, Portobello Carpaccio, and Gnocchi alla Vodka.
"But I scream for ice cream!" Then you'll shriek over Dark Chocolate Sorbet, Mango Lassi Ice Cream, and from-scratch Oatmeal Raisin Ice Cream Sandwiches.
If you're a waffling vegan newbie, on-the-fence vegetarian, or veg-curious omnivore, this book will banish your doubts. You'll find you can get enough protein, fit in at a potluck, learn to love cauliflower, and enjoy pizza, nachos, brownies, and more—without any animal products at all. (Even vegan pros will discover some new tricks!)
Website
:
Keepin' It Kind
• • • • • • • • • • • • • • • • • • • • • • • • • • • • • • • • • • • • • • • • • •
"The Hands-On Home: A Seasonal Guide to Cooking, Preserving & Natural Homekeeping" by Erica Strauss
Create the DIY home you've always wanted with over 100 recipes, tips, and inspirational ideas from blogger Erica Strauss (Northwest Edible Life). Covering everything from cooking, canning and preserving to making your own nontoxic home and personal care products, this fresh take on modern homemaking wil help you make the most of your time, effort, and energy in the kitchen and beyond.
Over half of the book focuses on the kitchen with a wealth of information about how to organize and stock your kitchen to more effortlessly prepare delicious meals. A former professional chef who knows how to build flavor into simple and delicious home-cooked meals, Strauss provides delectable recipes for breakfast, lunch, dinner, and dessert like Choose-Your-Own-Adventure Granola, Forager Spring Greens Soup, Simple Crispy Chicken with Roasted Lemon Pan Sauce, and Olive-Oil Rosemary Cake with Lemony Glaze.
Strauss includes details on Basic Food Preservation techniques such as water-bath canning, pressure canning, and lacto-fermentation along with a handy year-long food preservation calendar of what to put up when. Preserving recipes are organized seasonally and include Rhubarb Syrup, Pressure-Canned Chicken Broth, Korean-Spiced Turnips, and Cranberry-Pear-Walnut Conserve.
The book also features recipes for DIY home care and personal care products like Nontoxic Laundry softener, Fizzy Bath Bombs, and Refreshing Peppermint Foot Scrub. Hands-on Home is packed with fabulous recipes, practical, no-nonsense advice, and time- and money-saving techniques. With a focus on less consumerism, Strauss provides instruction on everything you need to live more delicious and sustainable DIY lifestyle.
Website
:
Northwest Edible Life
• • • • • • • • • • • • • • • • • • • • • • • • • • • • • • • • • • • • • • • • • •
"Thug Kitchen Party Grub: For Social Motherf*ckers"
From the duo behind New York Times bestseller, Thug Kitchen, comes the next installment of kick-ass recipes with a side of attitude. Thug Kitchen: Party Grub answers the question that they have heard most from their fans: How the hell are you supposed to eat healthy when you hang around with a bunch of assholes who couldn't care less about what they stuff in their face? The answer: You make a bomb-ass plant-based dish from Thug Kitchen. Featuring over 100 recipes for every occasion, Party Grub combines exciting, healthy food with easy-to-follow directions and damn entertaining commentary.
From appetizers like Deviled Chickpea Bites to main events like Mexican Lasagna, Thug Kitchen: Party Grub is here to make sure you're equipped with dishes to bring the flavor without a side of fat, calories, and guilt. Also included are cocktail recipes, because sometimes these parties need a pick-me-up of the liquid variety.
• • • • • • • • • • • • • • • • • • • • • • • • • • • • • • • • • • • • • • • • • •
"Forgotten Bookmarks: A Bookseller's Collection of Odd Things Lost Between the Pages" by Michael Popek
It's happened to all of us: we're reading a book, something interrupts us, and we grab the closest thing at hand to mark our spot. It could be a train ticket, a letter, an advertisement, a photograph, or a four-leaf clover. Eventually the book finds its way into the world-a library, a flea market, other people's bookshelves, or to a used bookstore. But what becomes of those forgotten bookmarks? What stories could they tell?
By day, Michael Popek works in his family's used bookstore. By night, he's the voyeuristic force behind www.forgottenbookmarks.com, where he shares the weird objects he has found among the stacks at his store.
Forgotten Bookmarks is a scrapbook of Popek's most interesting finds. Sure, there are actual bookmarks, but there are also pictures and ticket stubs, old recipes and notes, valentines, unsent letters, four-leaf clovers, and various sordid, heartbreaking, and bizarre keepsakes. Together this collection of lost treasures offers a glimpse into other readers' lives that they never intended for us to see.
Website
:
Forgotten Bookmarks
• • • • • • • • • • • • • • • • • • • • • • • • • • • • • • • • • • • • • • • • • •
"No Baggage: A Minimalist Tale of Love and Wandering" by Clara Bensen
Newly recovered from a quarter-life meltdown, Clara Bensen decided to test her comeback by signing up for an online dating account. She never expected to meet Jeff, a wildly energetic university professor with a reputation for bucking convention. They barely know each other's last names when they agree to set out on a risky travel experiment spanning eight countries and three weeks. The catch? No hotel reservations, no plans, and best of all, no baggage.
Clara's story will resonate with adventurers and homebodies alike—it's at once a romance, a travelogue, and a bright modern take on the age-old questions: How do you find the courage to explore beyond your comfort zone? Can you love someone without the need for labels and commitment? Is it possible to truly leave your baggage behind?
• • • • • • • • • • • • • • • • • • • • • • • • • • • • • • • • • • • • • • • • • •
"Bébé Day by Day: 100 Keys to French Parenting" by Pamela Druckerman
À la carte wisdom from the international bestseller Bringing up Bébé
In BRINGING UP BÉBÉ, journalist and mother Pamela Druckerman investigated a society of good sleepers, gourmet eaters, and mostly calm parents. She set out to learn how the French achieve all this, while telling the story of her own young family in Paris.
BÉBÉ DAY BY DAY distills the lessons of BRINGING UP BÉBÉ into an easy-to-read guide for parents and caregivers. How do you teach your child patience? How do you get him to like broccoli? How do you encourage your baby to sleep through the night? How can you have a child and still have a life?
Alongside these time-tested lessons of French parenting are favorite recipes straight from the menus of the Parisian crèche and winsome drawings by acclaimed French illustrator Margaux Motin.
Witty, pithy and brimming with common sense, BÉBÉ DAY BY DAY offers a mix of practical tips and guiding principles, to help parents find their own way.
• • • • • • • • • • • • • • • • • • • • • • • • • • • • • • • • • • • • • • • • • •