Recently I was sent the trailer for the upcoming film Papa: Hemingway in Cuba (2015) which is, as you've probably guessed, a biopic about about Ernest Hemingway's life and time in Cuba. But it isn't just that, it's the first Hollywood film to shoot on location in Cuba since the 1959 revolution and I'm excited about it.
As a Cuban-American the idea of seeing Cuba on the big screen in an American movie, and not scenes shot in the Dominican Republic pretending to be Cuba, makes me happy. Even though this film was apparently shot in 2014 and isn't opening until now, it still kinda give me hope especially with everything going on with Cuban-American relations at the moment.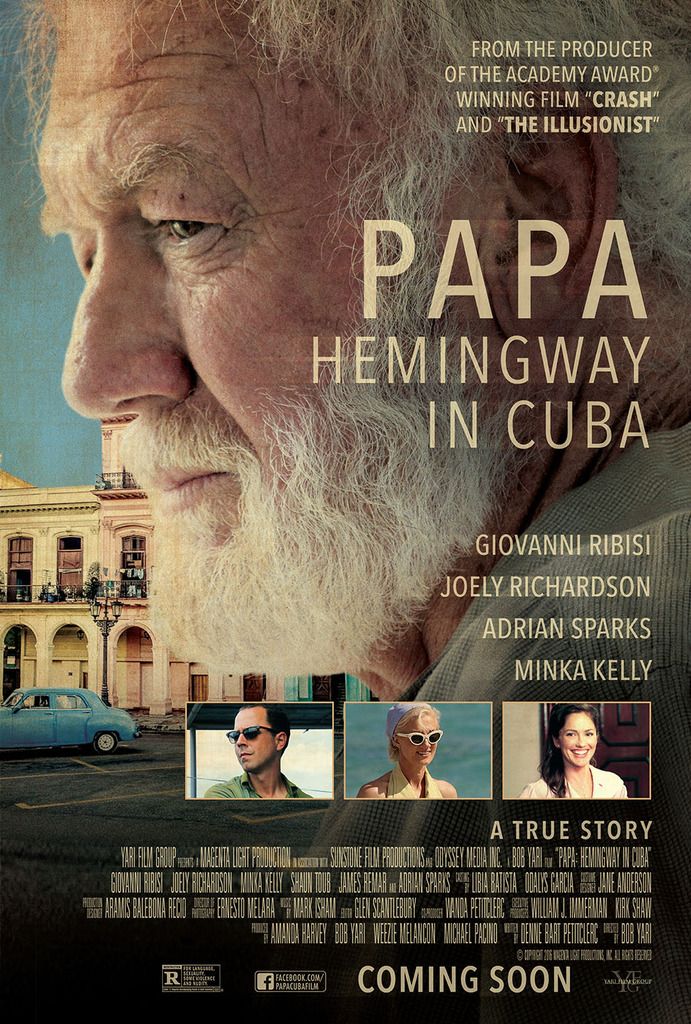 "In order to write about life, you must first live it." - Ernest Hemingway


PAPA: Hemingway in Cuba is the true-life story of a young journalist who finds a father figure in legendary author Ernest Hemingway. Their relationship began in the late 1950's when Ed Myers, then a junior reporter at The Miami Herald, wrote a fan letter to his idol. Myers thought he was being pranked when the larger than life Hemingway phoned the newsroom a week later, inviting him to Havana.

"Good letter, kid," the famous voice growled. "You like to fish?"

Hidden away at his private estate with his wife Mary, the elusive author mentors Myers in fishing, drinking, and finding his voice while the Cuban Revolution boils up around them. In this turbulent landscape, observing an icon in his twilight years, Myers discovers his strength while recognizing that all of our heroes are human.

PAPA: Hemingway in Cuba is directed by Bob Yari, whose credits as a producer include the Oscar® winning Best Picture Crash and The Illusionist. With its title derived from the Nobel Prize-winning novelist's nickname, PAPA, is based on an autobiographical script by Denne Bart Petitclerc. Played by Giovanni Ribisi, the character is names Ed Myers in the film. Theater and screen veteran Adrian Sparks portrays Hemingway; Joely Richardson is his wife, Mary Hemingway. Minka Kelly is Debbie Hunt. James Remar portrays Santo Trafficante, Jr., reputedly the most powerful Mafioso in Batista- era Cuba. Hemingway's legendary first-mate of the Pilar, Gregorio Fuentes, is played by local Cuban actor, Eduardo Almirante.

The producers are Amanda Harvey, Michael Pacino, Weezie Melancon and Bob Yari. PAPA: Hemingway in Cuba was filmed with the assistance and cooperation of The Cuban Institute of Cinematographic Art and Industry (ICAIC). Santaigo Llapur from ICAIC is PAPA: Hemingway in Cuba's Production Director. William Immerman and Kirk Shaw are the executive producers. Wanda Petitclerc is co-producer. The line producer is Fernando Uriegas.

The team that brought PAPA: Hemingway in Cuba's Old Havana to life includes Los Angeles-based Salvadorian-American director of photography Ernesto Melara, Cuban production designer Aremis Balebona Recio, American costume designer Jane Anderson, and Cuban casting directors Libia Batista and Odalys Garcia, among others.

As relations between the United States and Cuba slowly thaw, PAPA: Hemingway in Cuba marks a watershed moment in that Yari and his multinational crew filmed almost entirely in and around Havana. A cultural milestone, helmed by an American director with Hollywood actors, a film of this significance has not been produced in Cuba in over 50-years since Castro's revolution signaled the beginning of the U.S. embargo.
Genre:
Drama/Biography
Cast:
Minka Kelly, Giovanni Ribisi, Joely Richardson & Adrian Sparks
Director:
Bob Yari
Screenplay:
Denne Bart Petitclerc
Producers:
Bob Yari, Amanda Harvey, Weezie Melancon & Michael Pacino
Release Date:
April 29th 2016