I spent this past weekend celebrating birthdays. Saturday we had a belated birthday dinner for my mother at the house (Mainly because she refused to let us take her out to dinner on her actual birthday which was last Thursday). I cooked dinner for the family and the boyfriends, it was nice aside from the fact that we all didn't sit together at the dinning room table (Our dinning room is full of stuff we managed to salvage from our den after Hurricane Sandy hit and we have nowhere else to put all the stuff, so we couldn't move everything to clear the table). Everyone enjoyed the dinner I cooked (Or pretended to at least), but not as much as the amazing cake I picked up from
Dortoni Bakery
in Levittown (If you live on Long Island and you need a cake, go to
Dortoni's
. This was the second cake we've purchased from them and both cakes were amazing). Overall it was a nice little family dinner, even though everyone but my mother wishes we just went out to a restaurant to save on the dishes & such.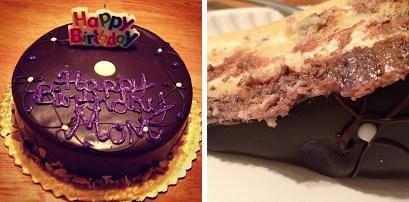 Sunday afternoon was Jack's first birthday party and I must say, Nicole and Eileen did it up with a sweet pirate theme. A bunch of us dressed up like pirates (Or at least had a skull and crossbones somewhere on our person), there was pirate music, a beautiful pirate ship cake that Eileen made, an awesome activities table for the children attending the party, etc. It was really a good time for a child's birthday party.
All of these birthday celebrations just made me start thinking about what I want to do for my birthday in March (I love planning birthday parties, especially my own). I'm thinking about staying on Long Island this year and maybe gathering my friends to play paintball at this indoor place in West Babylon. I'll have to ask around and feel people out to see if it'll be possible. I hope my friends are down because I think it could be awesome.