Since my library still isn't open to the public and I'm doing various odd tasks or whatever you'd like to call them, I decided yesterday that I was going to make a bunch of craft demos for story times I'd like to do when we are once again open for business or as an outreach type program. And since I think my crafts are pretty flipping cute I decided to share them all with you (Exciting, I know), so maybe you can get inspired to be a little crafty today.
I found some version of all of the crafts above on
Pinterest
, so if you're interested in instructions you can find them if you click on my "
Crafts For The Library
" board.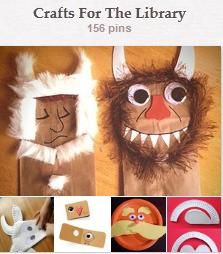 On a side note, I know I haven't been the most exciting person as of late (I mean, aside from possibly breaking stuff and needing stitches) but I have a few interesting things coming up next week that I can't wait to share with all of you! I hope you're all out there doing wonderful things!