Since my college friends are getting married this weekend and I was asked by
Cardstore
to check out their services, make a card, etc. I figured it would be a great opportunity to kill two birds with one stone by make my friends a custom made card for their wedding and test out a website/service that is new to me.
I must say, the card making process over at
Cardstore
is extremely easy and is very user friendly. They provide tons of pre-made themes one can choose from, as well as the option for individuals to create their own photo cards. I opted to use one of their pre-made layouts because I thought it was really sweet.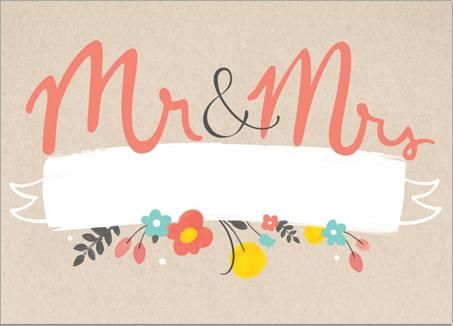 After finishing up with the outside, users are giving seven options for the inside of the card -- The standard pre-made card with their note, four options that give users the ability to add photo(s) with captions on the top flap, one with that an extra message could be added to the top flap or a blank card. I went with one that had a photo on the top flap, but I didn't add a caption.
For the picture I went searching through
Facebook
to find photos of the bride and groom as children and used a simple photo program to put them next to each other. I thought it was cute and would make my card a little different from others that they would receive.
On the bottom flap I left the message that
Cardstore
originally had on that card because it was very sweet, but added my own message underneath that one.
"Congratulations on finally tying the knot!! May this next chapter in your lives be a long and happy one. All the best and good luck!!"
Underneath that users are given the option to add a signature, either their own via scanning it in or just typing out. I decided that Justin and I would just sign it when it arrived at the apartment.
Lastly users are given the option to leave the back of the card blank or add in another picture with a caption. I added a picture of the two of them at prom, but didn't add a caption.
Once you've got the card to your liking
Cardstore
asks that you preview it to make sure everything is correct.
When that is all said and done
Cardstore
asks you how you'd like it shipped -- Mailed to the recipient or sent to the person who made the card; Blank envelope or envelope with the return address printed on it. Since I'm going to the wedding I just went with a blank envelope.
And then you get into all the payment jazz. The particular card I made cost $3.49 plus $1.00 for shipping, which I think is extremely reasonable for what you're getting. Obviously I didn't pay for this card because I got sent a free promotional code, but I totally would have paid that amount!
Once you're all done with that you get a standard confirmation e-mail, followed by a shipment e-mail.
In terms of shipping, I got the card by the date they said I would (I didn't actually see it until a few days later because Justin got to the mail first and stuff ended up on top of the envelope). It came like this...
In a nice sturdy little envelope. The card inside was in perfect condition and it came with two blank envelopes, which is nice in case you mess up on the first.
Overall, promotional code or not I'd very much so go and use
Cardstore
to make more cards for special occasions in the future.
As I stated more than once in this post, Cardstore sent me a promotional code to try out their service.
That being said, all of the above opinions are truly my own.
As always if you wanna send me free stuff I'd totally take it, try it & give you my honest opinion of it!