1. What Is Your Favorite Movie Of All Time?
This is such a hard question. I love The Godfather (1972), Halloween (1978), Clue (1985), The Goonies (1985), Eurotrip (2004), etc.
2. What Is Your Favorite Movie Quote?
I am constantly quoting Mrs. White from Clue (1985) whenever someone does something stupid.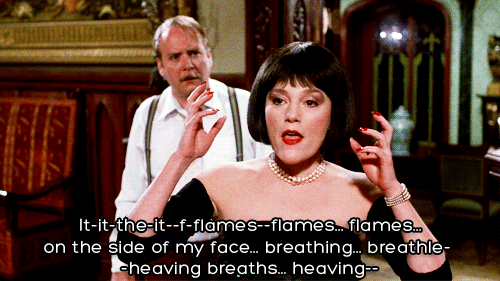 3. What Is The Best Movie To Watch For A Girls Night In?
My Big Fat Greek Wedding (2002) is always fun for a girls night in.
4. What Is The Best Breakup Movie?
I actually did a post a while back ("
Breaking Up Is Hard To Do...
") that featured a bunch of break up movies. Here are the movies I had on that list...
Personally, I think the first one I would choose to watch would be The First Wives Club (1996).
5. Who Would You Want To Play You In A Movie About Your Life?
Maybe a younger Janeane Garofalo.
6. Which Movie Star's Closet Would You Want To Raid?
Hmmm... Kelly Osbourne even though she isn't a movie star.