Since Halloween is creeping closer and closer I thought it would be fun to do a little thirteen days of horror (or not) movie recommendations. So, for the next two weeks and a day I will be featuring some of my personal favorites in the genre of horror, comedy-horror, paranormal, Halloween, etc. in daily posts.
And now for the first...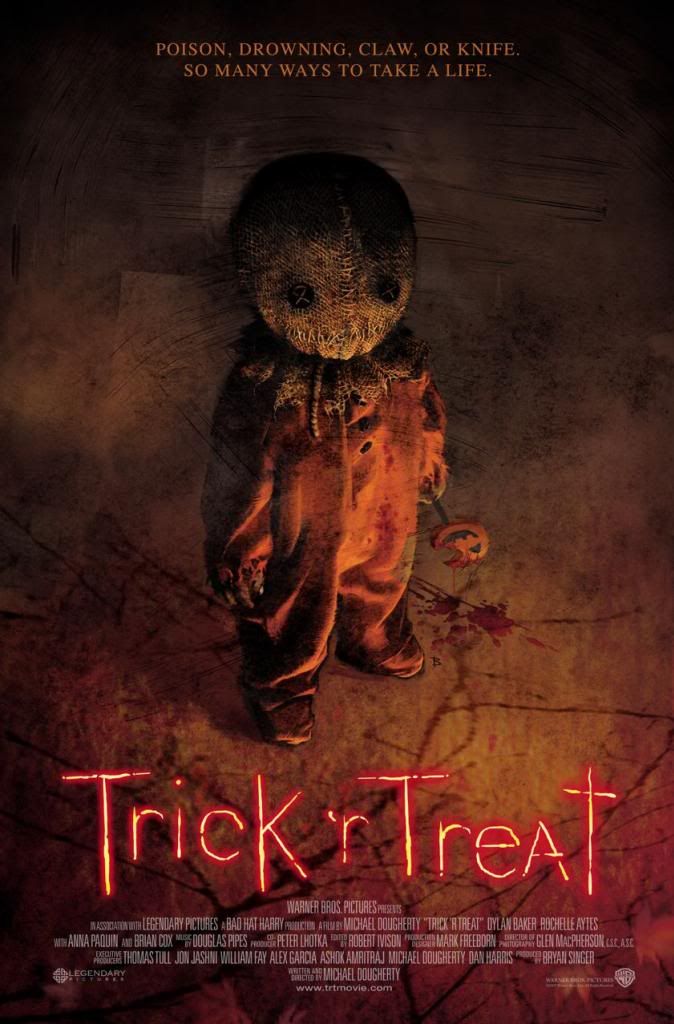 Four interwoven stories that occur on Halloween: An everyday high school principal has a secret life as a serial killer; a college virgin might have just met the one guy for her; a group of teenagers pull a mean prank; a woman who loathes the night has to contend with her holiday-obsessed husband.
Genre:
Comedy/Horror/Thriller
Cast:
Dylan Baker, Rochelle Aytes, Anna Paquin, Brian Cox, Quinn Lord, Lauren Lee Smith. Tahmoh Penikett, Moneca Delain, Brett Kelly, Britt McKillip, Isabelle Deluce, Jean-Luc Bilodeau, Leslie Bibb, Patrick Gilmore, C. Ernst Harth, Christine Willes
Directed by:
Michael Dougherty
Written by:
Michael Dougherty
Production:
Warner Bros.
--
Legendary Pictures
, Bad Hat Harry Productions, Little Sam Films
Release Date:
December 9th, 2007
I cannot tell you how much I enjoyed this movie the first time I watched it. It was unexpected, amazing and a great way to get into the spirit of Halloween.
If you don't feel like renting this one it is going to be livestreaming on the
Legendary Pictures Facebook
on October 28th at 7:30pm PT/10:30pm ET because they are having
theatrical screening
that day that will be followed by a cast and crew panel at the Egyptian Theatre in Hollywood.
If you guys have any favorites that you'd like to recommend to me I'd love to hear about them!