As I mentioned in a previous post, I got engaged this past Saturday and this is the story of how it happened...
Justin and I woke up on Saturday and it happened to be gorgeous out, so Justin asked me if I wanted to go to
Caumsett State Historic Park Preserve
in Huntington, NY and have a picnic -- Which is something we do frequently, so I said sure thinking it was like any other random date day.
So we got dresses, grabbed our picnic stuff and headed to a few places to pick up lunch. First we went to a local liquor store and picked up a bottle of champagne and then we headed over to
White Post Farms
to get bread and something sweet (They make awesome
gourmet breads
). After
White Post
we drove into Huntington and stopped at
Ideal Cheese & Wine Cafe
to pick out cheeses. Fifty dollars in cheese and a Facebook post about how Justin knows how to make me happy later, we drove up to
Caumsett
.
We paid, parked, grabbed all the goodies from the car and headed over to the walled garden to set up our picnic.
After getting settled, and just as I was about to grab the loaf of bread, I turn and see Justin pull a ring box out of his jacket pocket. He started telling me that it's been amazing living with me for this past year and how he thinks that I'd make an awesome wife and he asked me to marry him. Before saying yes I asked him several times if he was lying to me, and after he said no he wasn't I said yes and he gave me my dream engagement ring.
Immediately after we popped the bottle of champagne, we had a drink (Which Justin clearly needed) and he started tell me all about my ring and everything he went through to get it. He told me how he had ordered the setting from this authorized
Kirk Kara
retailer from Westchester and how it was supposed to take four weeks to be made but it ended up taking five, which caused him a lot of frustration because a while back he had promised me that he'd propose to me after he lived with me for a year. Well, a year was this past Monday and for the past couple of
months
weeks I had been telling him that if I didn't get my ring on May 5th that I was going to kill him (I had a code phrase and everything to text the body removal team if it got to that point).
Since the ring was late he was starting to get worried that May 5th would come around and I would start shooting him death stares. Which I would have because he had been telling me in the weeks leading up to the one year mark that I was crazy, he didn't promise me anything, I made that up, I must not know how to read a calendar, etc. So this guy was fearing for his life and rightfully so...
Apparently on Friday he had gotten a call from the store owner saying the setting had come in and that he could bring in the diamond to have the ring set. So he drove up to Westchester and while he was driving up realized that they didn't necessarily say that the ring would be set that day. Thus causing him to freak out some more. Thankfully once he got to the store the lady had it set within an hour and then Justin drove back to Long Island in traffic, which stressed him out even more.
Then he proceeded to tell me how I almost ruined the secret he'd been keeping from me for weeks by several of my decisions the morning he was going to propose to me. But he managed to get the ring in his jacket pocket without me noticing.
He also told me that he decided to propose to me at that very spot
last September when we went to Caumsett for the very first time
-- While we were there we saw this old couple sitting on a bench across from us and I had asked him if he would go on picnics in the park with me when we were old and he said yes. Here is a picture of that old couple...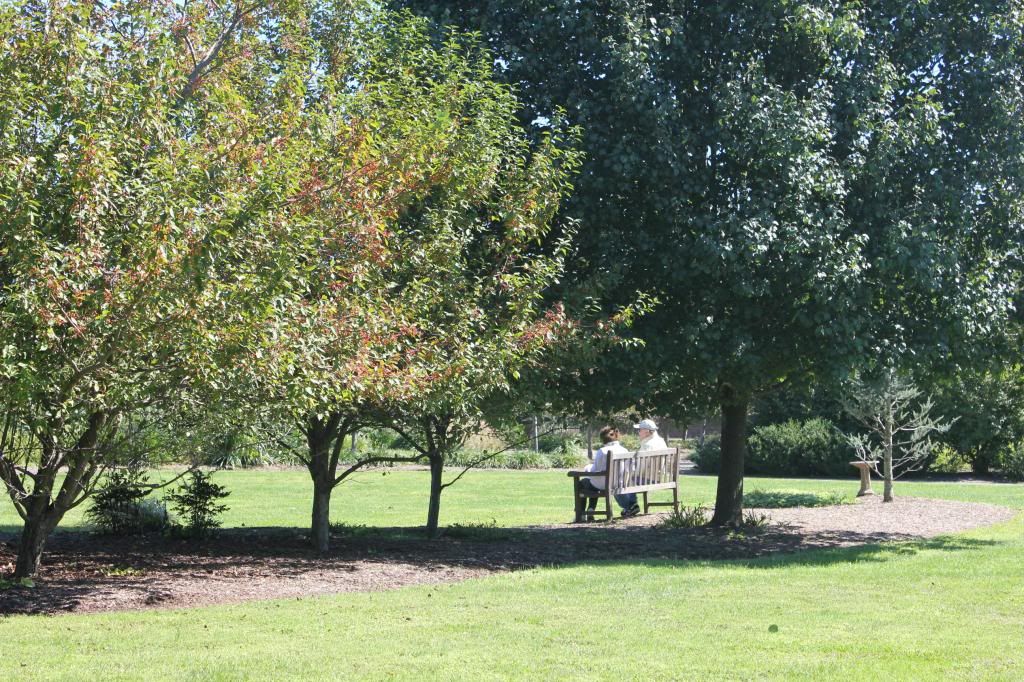 So yeah, that's how Justin proposed to me on Saturday, May 3rd at
Caumsett State Historic Park Preserve
. I had no idea it was happening and it was the greatest surprise ever.