Mother's Day is right around the corner and you know what that mean, you have to get mom and grandma cards. Instead of going to the store and picking out a generic Mother's Day card (Which are mostly all really lame in my opinion), this year I used online retailer
Cardstore
to make my mother a customized card.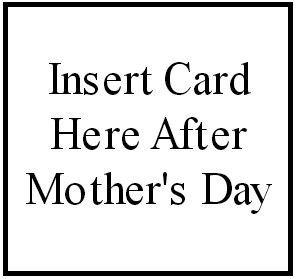 I must say, the card making process over at
Cardstore
is extremely easy and is very user friendly. They provide tons of pre-made themes one can choose from, as well as the option for individuals to create their own photo cards. Since this bad boy was for my mother I thought I should let my creative juices flow and make her a personalized one. I opted to go with their simple sixteen square 4.75x4.75 folded photo card (I though that my mom could put it in her locker at work and take whatever old ass pictures she has of my sister and I down).

Here are some examples of the pre-made Mother's Day cards for those interested in seeing what they have to offer...
So after picking out the sixteen square 4.75x4.75 folded photo card, I hit up mine and my sister's Facebook and
Instagram
accounts looking for pictures to fill this bad boy up with.
After finishing up the front I customized the inside with one of their seven options and moved on to the back of the card (I don't want to give too much detail on what I did with the card only because I know my mother reads my blog).
Once you've got the card to your liking
Cardstore
asks that you preview it to make sure everything is correct, then you let them know how you want it shipped (You can have it mailed to the recipient or sent to yourself, and they offer you a blank envelope or envelope with the return address printed on it) and then you pay.
The particular card I got cost $2.99 plus $1.00 shipping which I think is totally reasonable. Obviously I didn't pay for this card because I got sent a free promotional code, but I totally would have paid that amount!
Overall, I think
Cardstore
is an amazing value and has quality cards. If you need to make cards for any occasion I'd totally recommend you go check them out.
This post was sponsored by
Cardstore
but all opinions are my own.