I was asked to share information with all of you about
City Year
and because it's such an amazing program and they do wonderful things, I am more than happy to help spread the word.
According to a recent study by Pew Center, although new data shows significant progress of graduation completion rates among Hispanic youth, students from that demo continue to have the highest drop out rate among all major racial and ethnic groups.
City Year exists to help solve that problem by putting AmeriCorps members in the classrooms of high-poverty communities to bridge the gap between the support that students actually need and what their schools are designed and able to provide. These corps members look like the students, come from very similar backgrounds, and provide 1:1 support by lending an ear and helping students not only academically, but also showing them a very tangible peak into what's really possible.
To make this a reality, City Year recruits the nation's best and brightest to join it's AmeriCorps and their many benefits include compensation through a stipend for 11 months that help meet living expenses, you will also be provided health insurance, uniforms and a modest stipend. Upon conclusion of your service, you will also receive a $5,730 Segal Education Award. In addition, City Year's comprehensive leadership development model empowers corps members to thrive as skilled and effective leaders. These valuable skills will help prosper the Corps members in any career field they wish to enter after City Year.
Other benefits available to the members of AmeriCorps include gaining general knowledge on health related issues and the impact that access to high quality health care has on high-poverty communities, as well as other knowledge and skills spanning education, business, and even law.
You have until April 30th to take advantage of this unique opportunity to join City Year and we put it all within your reach - just click here. Take advantage of the program with the potential to change your professional future and motivate and inspire in others the will to succeed!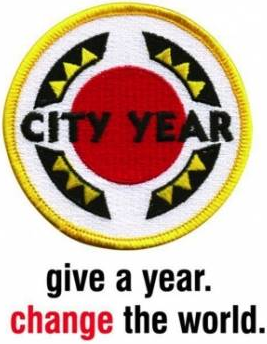 So if you know anyone that would love helping out under privileged youth, spread the word. This is a great cause.