As I mentioned in a previous post I was being given the opportunity to attend one of this years
Food Network & Cooking Channel New York City Wine and Food Festival
events and it happened to be last night. The particular event that I got to attend, with my sister as my date, was the
Tacos & Tequila
party (Where a number of top chefs presented their own creative taco interpretations to celebrate Mexican cuisine) hosted by
Chef Aarón Sánchez
at
Urbo
in New York City and was presented by the festival's official culinary destination of the year
Mexico
.
tacos and tequila
. Unfortunately because I don't eat meat with the exception of my beloved bacon, there wasn't much for me to eat but that's why I brought my sister along with me. Thankfully she is a little foodie and was willing to try everything that every chef had to offer. And according to her, and she doesn't lie when it comes to food, everything was amazing. Especially the lengua taco made by
Iron Chef Jose Garces
, which she actually told him.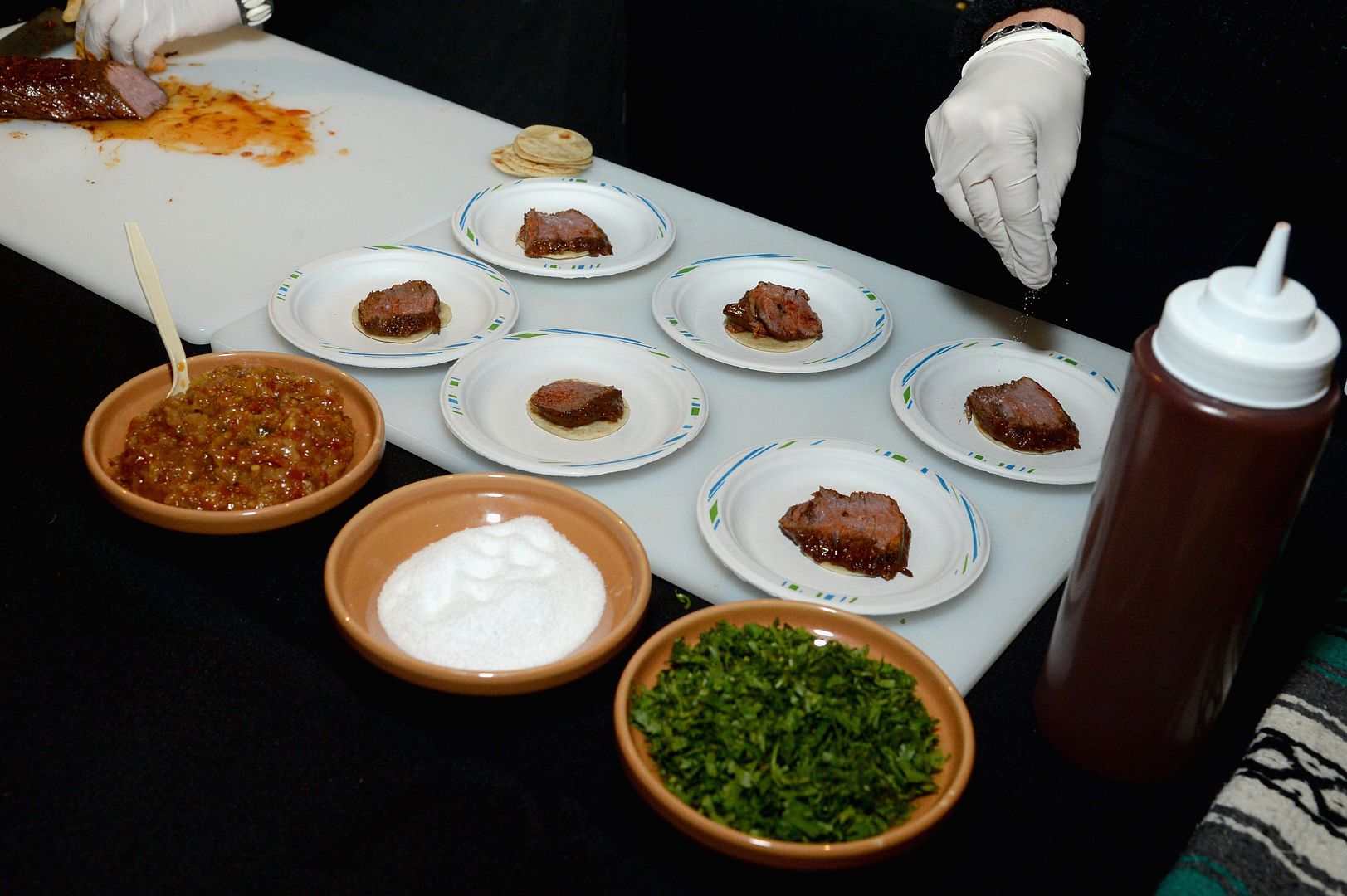 While I didn't get to partake in many of the tacos -- I did have a delicious squid taco made by Chef Michael Chernow of
Seamore's
and amazing smoked bacon guacamole tostadas, which I ate literally ate a dozen of, by
Chef Mark Kiffin
of Zacatecas (Who happens to be a
James Beard Foundation
award winner for Best Chef of the Southwest in 2005) -- I did have a lot of tequila, especially the Casa Cosmo made with
Casa Noble Tequila
.
Here is the recipe for that if anyone is interested...
CASA COSMO


1 oz Orange Liqueur
1/2 oz Lime Juice
1 Splash Cranberry Juice
Ice

Shake all ingredients with ice and strain into a glass.
Chef Aarón Sánchez
,
Chef John Besh
,
Iron Chef Jose Garces
, Chef Mark Murphy and
Chef Mark Kiffin
) and dance the night away.
The only thing that I was disappointed about and honestly it was my own fault, is the fact that I didn't know that Taylor and Issac Hanson were at the event. Because I totally would have found them and taken a selfie with them to make my inner twelve year old happy (I was a really big fan of Hanson as a tween).
So yeah, it was an amazing experience and I hope that I will have the honor to attend again because this was such a great event.
• • • • • • • • • • • • • • • • • • • • • • • • • • • • • • • • • • • • • • • • • •
If you wanna check out any of the other pictures from last night look up the hashtags #VenAComer #LiveItToBelieveIt and #NYCWFF on Instagram to see other attendees' pictures or you can check out the
GettyImages
taken by
Ben Gabbe
here
(Which includes a picture of my sister and I with
Chef Aarón Sánchez
and
Chef John Besh
).
NOTE: My sister and I were busy partying it up, so all photo courtesy of Mexico and H+M Communications.