Last week while I was sick (I had a wicked cold with a crazy sinus headache almost all of last week) I put a bunch of books on hold and here are the ones that just came in...
"Cupcakes and Cashmere at Home" by Emily Schuman
In Cupcakes and Cashmere at Home, Emily Schuman expands on the personal lifestyle advice that her fans loved in her first book and on her popular blog, with a focus on interior design and entertaining at home. The book features never-before-seen content and explores Emily's accessible design philosophy for decorating and creating a fashionable personal space. In addition, the book includes DIY design projects and party planning ideas. Emily shows readers not only how to create space that is inviting, but also how to welcome guests and entertain in their homes with ease.
Website
:
Cupcakes & Cashmere
• • • • • • • • • • • • • • • • • • • • • • • • • • • • • • • • • • • • • • • • • •
"Why Not Me?" by Mindy Kaling
In Why Not Me?, Kaling shares her ongoing journey to find contentment and excitement in her adult life, whether it's falling in love at work, seeking new friendships in lonely places, attempting to be the first person in history to lose weight without any behavior modification whatsoever, or most important, believing that you have a place in Hollywood when you're constantly reminded that no one looks like you.
In "How to Look Spectacular: A Starlet's Confessions," Kaling gives her tongue-in-cheek secrets for surefire on-camera beauty, ("Your natural hair color may be appropriate for your skin tone, but this isn't the land of appropriate–this is Hollywood, baby. Out here, a dark-skinned woman's traditional hair color is honey blonde.") "Player" tells the story of Kaling being seduced and dumped by a female friend in L.A. ("I had been replaced by a younger model. And now they had matching bangs.") In "Unlikely Leading Lady," she muses on America's fixation with the weight of actresses, ("Most women we see onscreen are either so thin that they're walking clavicles or so huge that their only scenes involve them breaking furniture.") And in "Soup Snakes," Kaling spills some secrets on her relationship with her ex-boyfriend and close friend, B.J. Novak ("I will freely admit: my relationship with B.J. Novak is weird as hell.")
Mindy turns the anxieties, the glamour, and the celebrations of her second coming-of-age into a laugh-out-loud funny collection of essays that anyone who's ever been at a turning point in their life or career can relate to. And those who've never been at a turning point can skip to the parts where she talks about meeting Bradley Cooper.
• • • • • • • • • • • • • • • • • • • • • • • • • • • • • • • • • • • • • • • • • •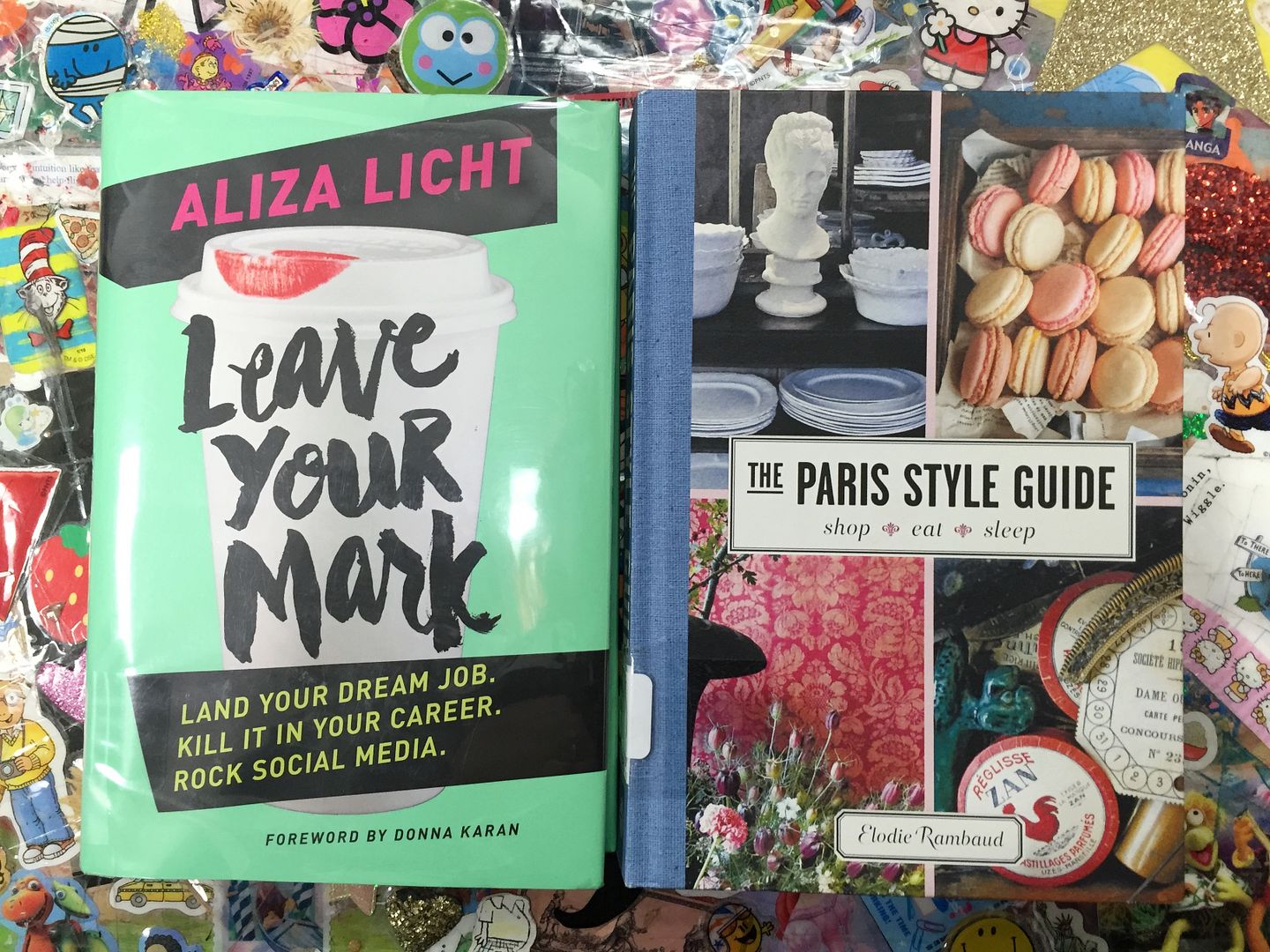 "Leave Your Mark: Land Your Dream Job. Kill It in Your Career. Rock Social Media." by Aliza Licht
LEAVE YOUR MARK isn't an advice book -- it's a mentorship in 288 pages.
Aliza Licht-global fashion communications executive, AKA fashion's favorite 'PR girl' and former Twitter phenomenon-is here to tell her story, complete with The Devil Wears Prada-like moments and insider secrets.
Drawing invaluable lessons from her experience, Licht shares advice, inspiration, and a healthy dose of real talk in LEAVE YOUR MARK. She delivers personal and professional guidance for people just starting their careers and for people who are well on their way. With a particular emphasis on communicating and building your personal brand, something she knows a thing or two about, Aliza is your sassy, knowledgeable guide to the contemporary working world, where personal and professional lines are blurred and the most important thing you can have is a strong sense of self.
Website
:
Aliza Licht
• • • • • • • • • • • • • • • • • • • • • • • • • • • • • • • • • • • • • • • • • •
"The Paris Style Guide: Shop, Eat, Sleep"by Elodie Rambaud
In this sophisticated insider's guide to the best of Paris shopping, Parisian native and resident, stylist and interior decorator Elodie Rambaud provides a personal tour of the city, pointing out choice boutiques of every kind, mapping out the best shopping routes, and listing not-to-be-missed destinations in every quarter. With this book in hand, every dimension of Parisian shopping and the best of daily life is at your fingertips, from flea markets to artisan workshops, from bustling cafés to little-known gardens.
Inside you'll find:
An extensive list of more than 200 shopping destinations of every kind: trendsetting décor and antiques sellers, local green markets and gourmet food shops, craft suppliers and couture ateliers, and everything in between
The address, telephone number, and website for every listing, as well as the closest metro station
Valuable travel advice, including recommendations for hotels, cafés, bars, patisseries, festivals, salons, and markets
Beautiful full-color photographs of every shop or location and comprehensive illustrated maps of the city, along with suggested itineraries
Whether you're traveling to Paris or want to explore what it has to offer from home, this gorgeous volume enables you to experience the city like a native Parisian.
• • • • • • • • • • • • • • • • • • • • • • • • • • • • • • • • • • • • • • • • • •
For some reason I haven't done one of these since July (Even though I've put books on hold for myself and read/listen to several books), so I don't remember the last book I posted about but I promise to have my thoughts on these.