And here's the part about Amsterdam. Remember, I was in Amsterdam so there may or may not be parts of my travel tale that I leave out...
Day Five - Monday, September 28th
As I mentioned in my post about Iceland, this day was a partial travel day. We woke up at like 3:00AM to get the last of our things ready and be picked up at 4:30AM for our forty-five minute drive to the airport.
At the airport we did all the normal airport stuff. In addition we ate overpriced breakfast, I bought European beauty products from Duty Free, etc. And by 7:40AM we were on our way to Amsterdam.
Fast forward three hours... We arrive, make our way across the airport and wait for our ride to drive us to the apartment we rented on Airbnb.
Like in Iceland, once we arrive we picked out rooms, found a grocery store to buy food and just chilled at the apartment until it was time to head into the city center (The apartment we rented was about fifteen minutes by tram outside the middle of the city) for our first tour in Amsterdam. A private
Red Light District Tour
given by Mark (or
That Dam Guide
).
By the time we were done with Mark, we were wanting to get back to the apartment because it was getting late. But before jumping on the tram we stopped off at a falafel place with the weirdest dude behind the counter. The falafels were good but not worth dealing with that strange strange man.
As soon as we were done eating we escaped the place as he was distracted by other potential customers and got our tram.
Day Six - Tuesday, September 29th
We woke up early-ish and headed into the city center for yet another tour with Mark. This time we were going on a general three hour walking tour of the city where we learned some history, as well as awesome places to eat, etc.
Once we finished up the tour we decided to go check out
Vondelpark
(Which is a big ol' park) and the
Van Gogh Museum
. Both were beautiful.
While we were visiting the
Van Gogh Museum
there was (And it's still currently going on until January 17th 2016) an exhibit called "
Munch : Van Gogh
" that shows the parallels between the two artists' works. It was really neat to see their work side by side and to see pieces like The Scream, Vampire II, etc. because I wasn't expecting to see them.
By the time we found the tram that would get us back to the area our apartment was in we were all pretty hungry, so we decided to check out this Thai restaurant around the corner from where we were staying called
Thai Tiger
. The food was really good but the service was shitty and they told us we couldn't have glasses of water unless we bought other drinks but then they charged us for waters anyway. It was just weird.
When we finished there we just went back to the apartment and started playing
Exploding Kittens
, followed by a very interesting drinking game.
Day Seven - Wednesday, September 30th
Since we drank so much the night before we slept in before heading to The Pancake Bakery to try out Dutch pancakes. Unfortunately we didn't really care for them. C'est la vie.
After our disappointing breakfast we went to meet up with our guide (Whose name I cannot recall for the life of me right now) from
Those Dam Boat Guys
for a canal tour of the city and to begin celebrating Rob's birthday.

Café de Klos
a little place that apparently has the best ribs ever.
When we were done eating we just decided to find a bar and wander around a bit before going to a show. After the show we popped into another bar as we decided what to do next.
We couldn't think of anything to do so we just went back to the apartment to chill.
Day Nine - Thursday, October 1st
Phil and Rob decided to go off and do their own thing, so the rest of us decided that we were going to do various randomness around the city. So myself, Justin and Erin walked through an outdoor flea market and then we hit up the
Artis Royal Zoo
(Which is one of the oldest zoos of mainland Europe).
Café-Restaurant De Plantage
. We followed lunch up with some beers at
Brouwerij 't IJ
, which is a brewery and bar inside of a windmill.
Brouwerij 't IJ's
beer selection, all of us minus Day headed into the city center to pick up some souvenirs. After picking up everything that we needed for our various family members, Erin hopped back on to the tram, while Justin and I went to
Café Bern
for dinner.
After dinner we went back to the apartment and again we just hung out.
Day Ten - Friday, October 2nd
For our last full day in Amsterdam Justin and I decided to wake up early to go visit the Anne Frank House (Which if you decide to do while you're in Amsterdam, and you really should, you either need to try and get tickets online or go an half an hour before it opens in the morning because the lines get crazy there) before meeting up with the others for a four hour bike tour of the countryside with
Mike's Bike Tour
.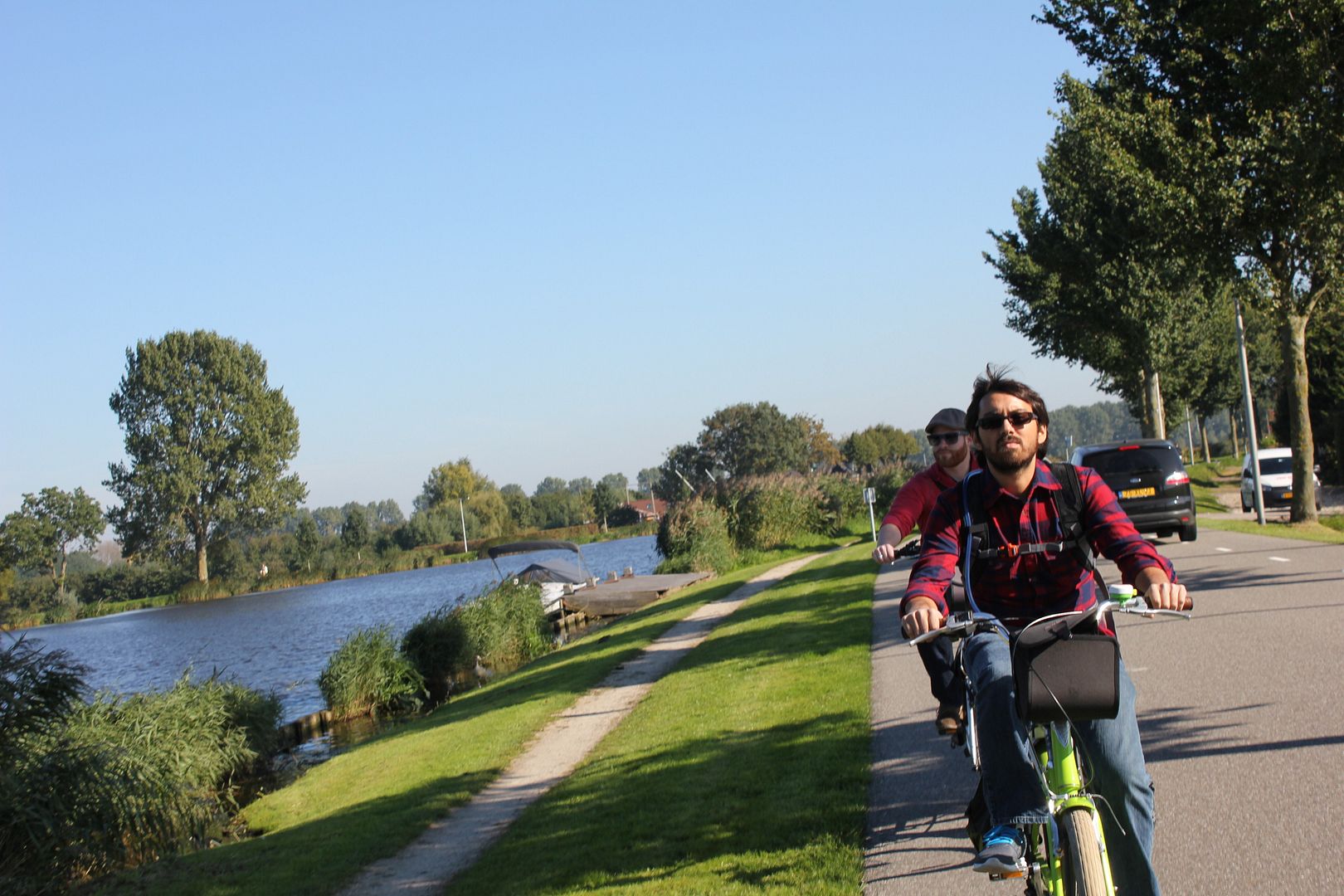 After getting our bike on, we wander around a bit trying to figure out if we wanted to eat or drink or whatever. So we bounce from bar to restaurant to bar until we decided to go to
In de Wildeman
, a bar that was featured on an episode of one of Anthony Bourdain's shows that serves 18 beers on draft and 250 different types of beers on bottle -- Justin and the boys were super happy.
Several hours, a bunch of beers and an interesting conversation with a gentleman from England later we decided we could not live off of beer alone and we needed to find something to eat. Eventually we ended up at an Italian restaurant that was pretty good but I can't remember the name of it for the life if me.
When we were finished stuffing our faces we headed back to the apartment to do some packing and such since we were leaving the next day.
Day Eleven - Saturday, October 3rd
I woke up way earlier than I should have so that I could shower and repack my suitcase before everyone else was up -- I have slight OCD and have to repack my suitcase or it drives me crazy.
One by one everyone else got up, showered, packed, etc. And then almost all of us helped clean up the apartment before we were picked up to go to the airport.
Like I did in Iceland, I bought makeup from Duty Free and BSed until it was time for our flight. Fast forward three-ish hours and a bunch of episodes of Gotham (2014-Present) and we were back in Iceland. While there we picked up some last minute souvenirs, some really shitty pizza and waited for our flight back to New York.
Fast forward six-ish hours, more episodes of Gotham (2014-Present), the movie The Butler (2013) and we were back in New York. And can I tell you, it was colder in New York than it was in Iceland. But I was happy to be back home.
So yeah, that was the rest of our trip. We had a great time and I cannot wait for my next adventure.