As promised, here is a big old blog post about the first half of my trip...
Day One - Thursday, September 24th
We arrived at Keflavík International Airport at around 6:00AM after a six hour flight from New York. From there we had a car pick us up and bring us to the house that we rented from
Airbnb
in Reykjavík.
After picking out rooms, finding something to eat near by and hanging out in the house for a few hours we were picked up by our guide for our first excursion, which was the
Into The Blue Snorkeling Tour
of the Silfra ravine in Thingvellir, National Park.
For those of you that don't know, Silfra is a rift that is part of the divergent tectonic boundary between the North American and Eurasian plates. And it has some of the clearest water you've ever seen, with visibility up to 80 meters. So we literally went swimming between continents.
I mean, I'm glad I did it but I wont be doing it again.
WARNING:
This is a theme throughout the course of this trip.
I Heart Reykjavík
.
Since we were meeting up in front of
Hallgrímskirkja
, a Lutheran church, we decided to go inside and check out the views from the observation tower because we heard that you can see all of Reykjavík from the viewing deck.
The Einar Jónsson Sculpture Garden
.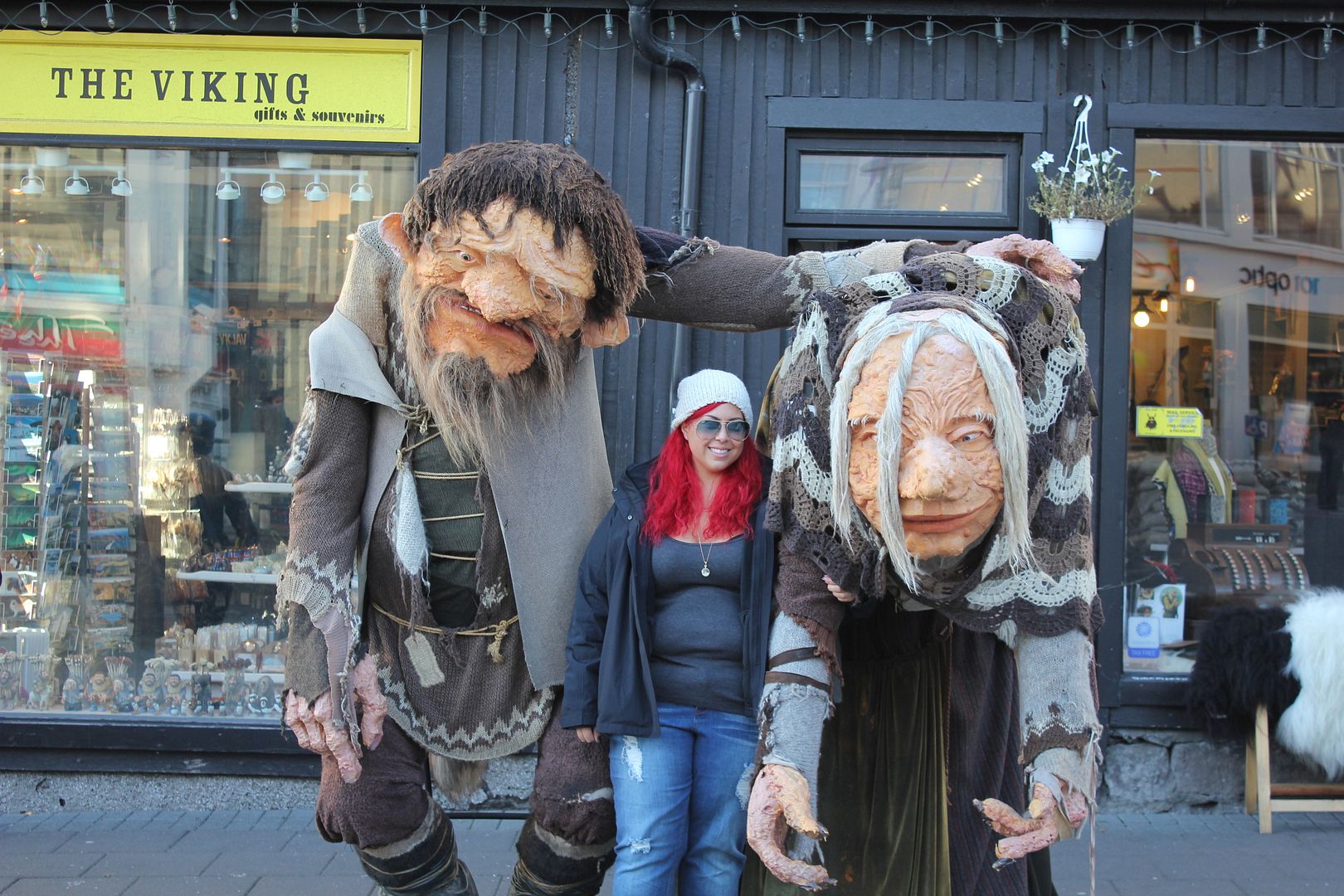 Unfortunately the Norther Lights Tour was terrible. The driver was a maniac. The tour guide was making excuses for our maniac driver. It just sucked. It was so bad I'm actually in the process of trying to get my money back from Capital One.
Day Two - Friday, September 25th
The six of us were booked to go on
The Golden Circle Tour
(An eight hour tour that highlights Iceland's natural wonders) with
GeoIceland
but Phil and Rob totally weren't feeling it after the chaos that was the night before. So just myself, Justin, Erin and I went.
When we were done at Hveragerdi we drove to Faxi to see the first of many waterfalls (We saw a lot of waterfalls throughout the course of our stay in Iceland).
Unfortunately while we were checking out the geysers we got an e-mail that the tour we had planned for the following day (We were going to hike up a volcano and go inside of it) was canceled because the weather was supposed to be bad -- We were bummed about it at first, but two days later when we were going on another tour I was super happy we didn't have two crazy physical tours two days in a row.
We wandered around an area that we didn't see the previous day and took a walk up to the top of a hill to see the views of the valley from above.
Kíkí Queer Bar
, that we had wondered past during our walking tour with Ásta the day before.
During the process of getting ready I ended up kicking Justin's suitcase so hard that I thought that I broke my pinkie toe. But that did not stop us from going out. I limped all the way to the bar, got a couple of drinks in myself and danced the night away (Gay bars play the best music).
When we were tired of being at the bar and wanted to move on to the next is when chaos ensued. The group got separated. People couldn't find one another. Someone went screaming my name down the streets of Reykjavík trying to find me. Someone got slapped. It was a royal cluster fuck.
Eventually everyone ended up back at the house and we all went to bed to sleep whatever just happened off.
Day Three - Saturday, September 26th
After the chaos of the night before we all slept in, which I think was good for everyone because we talked about what happened calmly and forgave one another.
When everything was peachy keen again we all got ready for a relaxing trip to the
Blue Lagoon Geothermal Spa
.
When we had our fill (Basically when our fingers were super pruney and we were tried of floating around) we decided that it was time to head back to the house and get ready for a fancy "family" dinner.
After spiffying up we walking into the city center to have dinner at this amazing restaurant called
Grillmarkaðurinn
(
Grillmarket
). The food there was so good. We all really enjoyed our meal choices (I had a trio of fish and Justin had the lamb) and would highly recommend the place to anyone who wants to have a nice dinner in Reykjavík.
Day Four - Sunday, September 27th
Unlike the day before, this was not a relaxing day (It was also our last day in Iceland). This was the day that we were all going on a glacier hike. And from the minute I woke up in the morning I was totally dreading it and I made it known.
Despite not being a happy camper (I bitched the whole way up and the whole way down), I went along with the group and went for the glacier hike.
I did not like the glacier walk but everyone else loved it. So if you were thinking about going to Iceland and doing this, unless you are a mouthy fat chick you will probably enjoy the hike.
Mikkeller & Friends
.
The next day was a travel day and our first day in Amsterdam, so I'll talk about it in my Amsterdam post...