Recently I've added two new products to my makeup bag and I love them so much that I had to write about them. Those products being
Urban Decay Matte Revolution Lipstick
in the shade
1993
and
Marc Jacobs Beauty Velvet Noir Major Volume Mascara
.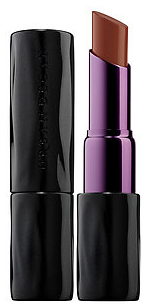 Lemme start off with
Urban Decay Matte Revolution Lipstick
in the shade
1993
.
1993
is described as a matte medium brown and in my opinion it is the perfect throwback 90's (Duh! It's called
1993
) brown lipstick. It's a creamy, non-dry feeling matte (Which is my absolute favorite lipstick finish) that just looks wonderful on. And most importantly it satisfies this need I've had to find a lipstick that looks like the one Scully is rocking in the earlier episodes of The X-Files (1993-2002).
The lipstick retails for $22.00 but it is currently out of stock on the
Urban Decay
and
Sephora
websites. The
Ulta
website claims to have it in stock but I don't know about that because I purchased mine from a physical
Ulta
store which bummed me out because I love getting me some
Sephora
points.
Now on to the
Marc Jacobs Beauty Velvet Noir Major Volume Mascara
(Which I would like to note that I received complementary from
Influenster
but honestly if I wouldn't have received a sample of it I would have never have purchased it because I am a drug store mascara girl through and through, and the idea of spending twenty-something dollars on mascara is something I would never have entertained before. That being said, I have now been converted and I will be purchasing a new tube as soon as I finish my current one). It is a super black mascara that is described as an "ultra-volumizing mascara that delivers instant dimension for epic lashes" and I must agree with this description. It gives my lashes the perfect amount of volume and is lengthening on top of that. Plus you can apply multiple coats of it without it looking like you have spider eyelashes. It is honestly everything I've ever wanted in a mascara.
The mascara retails for $26.00, which is a tad pricey but totally worth it in my opinion, and is available at
Marc Jacobs Beauty
and
Sephora
.
So yeah, I am totally in love with these two new additions to my makeup bag and they make me love putting on my makeup even more.
Do you have any makeup or beauty products that you're currently loving? If so, lemme know! I love makeup and/or beauty product recommendations.