The holidays are not so slowly creeping up and even though I already gave Justin his Christmas present, I'm sure there are still a handful of you out there that might still be looking for the perfect gift. And I obviously have a recommendation for all of you... Wood watches from
JORD
.
Yes, they gifted me a watch but I've owned another one (Which full disclosure, they sent to me also and you can read about
here
) for over a year now and have nothing but praise for
JORD
and their products, if I didn't I would not be talking to you all about them.
JORD
, for those of you unfamiliar with them, is a watch company that creates beautiful timepieces out out a variety of sustainable wood and other high quality materials.
They recently started new customized engraving service just in time for the holidays and asked me if I wanted to give it a whirl. And because I love my
Fieldcrest
so much and don't want to share it with Justin anymore, I decided that I would and I would give the watch to Justin as a Christmas gift.
The particular piece I decided to get for Justin was the
Conway (Dark Sandalwood & Burgundy)
because it is just this gorgeous statement piece of a watch that would go with anything he is wearing. And there was just something about it that was so attractive and screamed gift for Justin.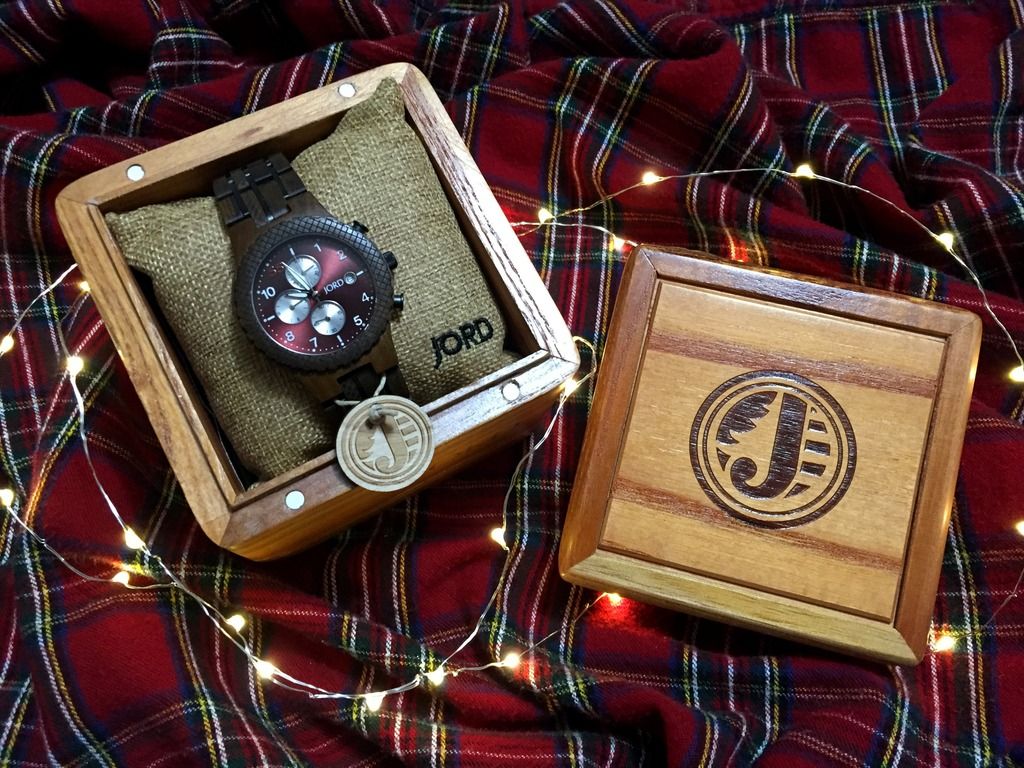 In terms of the engraving, if you've been following me for a while you can probably kinda sorta guess what I had engraved... I had "I love you. Everlong." engraved on the back plate. I wanted to have "You've got to promise not to stop when I say when" because that lyric has always been a big part of our relationship, it was in our wedding vows to each other, etc. But the particular piece I chose had a twenty-five character limit. I mean, they have another engraving option where I could have had it done on the side of the box the watch comes in but I really wanted to have something done on the piece so that was always with him. So "I love you. Everlong." was it.
C'mon, that is one sweet engraved gift...
For those of you that wanna get down to the nitty gritty details on their customized engraving service... Like I mentioned above,
JORD
is offering two options for engraving. You can either do the watch engraving, where they engrave the back plate of the piece for an additional $35.00. Or you can have the wood engraving, where they engrave the side of the cedar wood presentation box that the watch comes in for an additional $45.00. Both options can be done in either block or script engraving. There are character limitations, so you'll have to visit the website to see those. And most importantly, engraving will extend your delivery time by up to seven business days so plan accordingly, customization is not a last minute thing but it is 150% worth it.
In addition to them generously giving me a watch for me to give as a gift, they've given me my very own
gift card code
to share with all of you. So if you click
here
you can fill out a form for a gift card (The gift cards are are available on a first come, first serve basis. One they are all redeemed, your gift card will no longer work).
So I hope you get to take advantage of that because these watches are seriously some of the most beautiful affordable time pieces I've come across and they make great gifts for any occasion. My sister's future brother-in-law actual received one from his bride the day of their wedding and he adores it.
If you do use the
gift card code
I'd love to see a picture of the piece you chose, and if you get the watch engraving what you had put on it or the side of the box.
• • • • • • • • • • • • • • • • • • • • • • • • • • • • • • • • • • • • • • • • • •
For anyone interested here is
JORD's
description, as well as the specs on the particular watch I chose to receive:
Master your time with the new Conway Series. The chronograph functionality allows you to tackle your day, down to the last second if necessary.Classic design meets modern detailing with custom knurling on both the bezel and wrist line, and a new band that feature complementary wood and stainless steel links. Deep burgundy is a subtle accent to the deep chocolate tones in the sandalwood case and band, perfect for the muted and masculine wardrobe.
Sapphire crystal glass
Luminescent hands
Deployment buckle with push buttons
Screw-down crown
Case width: 42mm
Case thickness: 12mm
Lug ends: 49mm
Band thickness: 20mm
Band length: 161mm
I am honestly in love with this watch and wish it came in a smaller size for myself because it's slightly too big for my tiny wrists. But I'll keep rocking my
Fieldcrest
that I got last year while Justin rocks this one.
*
FTC Disclaimer: Wooden Watches by JORD provided me with the watch to review but all opinions are my own.