This past Saturday was my birthday and in true me fashion, I went into New York City with my sister, Day, Toni & Erin and drank a lot.
We kicked off the festivities of the day early in the afternoon by popping a bottle of champagne on the LIRR and annoying everyone else in the surrounding seats with our loud chatter until we arrived at Penn Station.
Once in the city we headed to
PS 450
for brunch with unlimited mimosas, bellinis, etc. and an amazing selection of hip hop (You all should know by now, I love me some rap music) playing loudly in the background.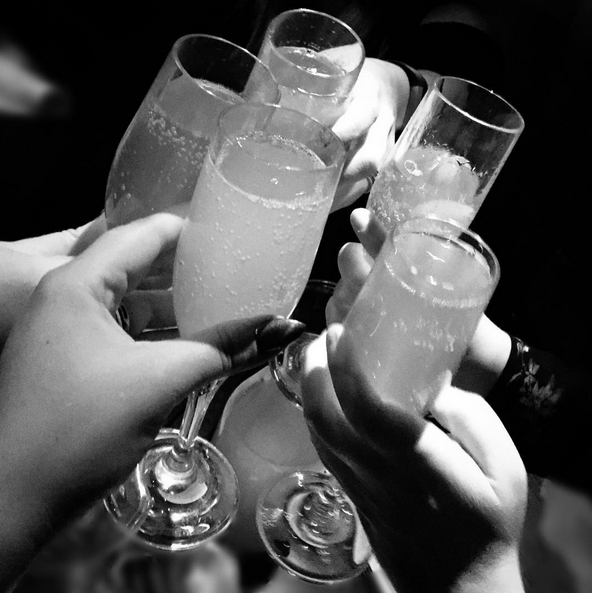 We ate, we drank, I cried, we drank, we laughed, I cried, we danced in our seats. It was a good time.
When our two hours was up at
PS 450
we hopped in another Uber and went for few more drinks and a couple of "moments" at
The 13th Step
. I don't remember how long we were there because by the time I had to leave I was double fisting drinks, which is never a good thing for my liver or memory.
But yeah, we parted ways outside of
The 13th Step
and earlier than we'd normally stop partying because it was time for my sister and I to head to the
Beacon Theatre
to see
My Favorite Murder
live.
Unfortunately when we arrived at the
Beacon
we were pretty drunk, so my sister bought us a couple of boxes of popcorn and we devoured them in an attempt to sober up. Which surprisingly, at least in my case, worked. So I got to enjoy an hour-ish of seeing Karen and Georgia live, with a pretty interesting hometown murder from an audience member -- My sister not so much so, she fell asleep during Karen's murder (She's not a Murderino, she didn't know what I was taking her to, so it's okay).
After the show we got an Uber and headed back to Penn Station to go home because we were pretty beat by then.
All in all it was a very good birthday. I'm so grateful for everyone that came out and dealt with me. I can honestly tell all of you that I have a pretty amazing group of friends and a bad ass little sister.