I don't know why but it just dawned on me that I never share what I'm reading or about to read with you guys on here -- I mean, in my month in review posts I always list the books I've read in the past month and I'm always posting Instagram pictures of my current reads but I've never done it on here and I thought that I should change that.
So here are the newest bunch of books that I just picked up off the hold shelf for myself...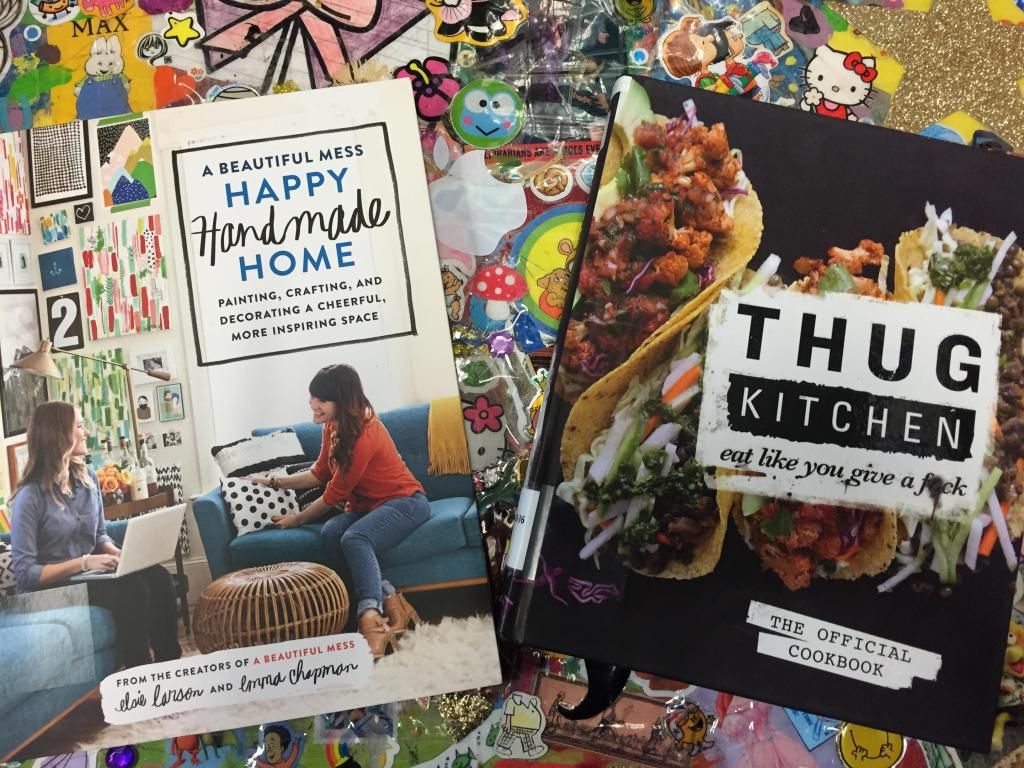 "A Beautiful Mess Happy Handmade Home" by Elsie Larson & Emma Chapman
Step inside the world of Elsie and Emma, the sisters behind the décor blog A Beautiful Mess. With tiny budgets and a crafty, can-do attitude, they overhauled each room in their first homes with DIY projects using family photos, vibrant fabrics, flea-market finds, and affordable furniture. Now, you can learn how to paint, craft, and decorate your way to a happy, bright space with distinct personality. In the same upbeat spirit and modern style found on their blog, you'll find fresh, all-new projects including:
• An inspired geometric-pattern coffee table made of balsa wood
• A hand-lettered statement wall featuring your favorite quote
• A quick and easy electrical tape update for your refrigerator
• A set of beautifully designed serving dishes
And more!
Packed with bonus styling tips from hanging the perfect gallery wall to making mismatched furniture work, Happy Handmade Home is design inspiration for personalizing your own space.
• • • • • • • • • • • • • • • • • • • • • • • • • • • • • • • • • • • • • • • • • •
"Thug Kitchen: Eat Like You Give A Fuck"
Yeah, plenty of blogs and cookbooks preach about how to eat more kale, why ginger fights inflammation, and how to cook with microgreens and nettles. But they are dull or pretentious as hell—and most people can't afford the hype.
Thug Kitchen lives in the real world. In their first cookbook, they're throwing down more than 100 recipes for their best-loved meals, snacks, and sides for beginning cooks to home chefs. (Roasted Beer and Lime Cauliflower Tacos? Pumpkin Chili? Grilled Peach Salsa? Believe that shit.) Plus they're going to arm you with all the info and techniques you need to shop on a budget and go and kick a bunch of ass on your own.
This book is an invitation to everyone who wants to do better to elevate their kitchen game. No more ketchup and pizza counting as vegetables. No more drive-thru lines. No more avoiding the produce corner of the supermarket. Shit is about to get real.
Website
:
Thug Kitchen
"The Real Girl's Kitchen" by Haylie Duff
Though she is best known as an actress, Haylie Duff feels quite at home in her kitchen. When she started serving up easy and elegant recipes, kitchen tips, and entertaining advice on her blog, Real Girl's Kitchen, the site quickly grew into a destination for fans and foodies alike.

Now everyone's favorite recipes—along with dozens of new dishes—are available in a gorgeous, hand-held volume. The Real Girl's Kitchen covers it all: breakfasts, salads, soups, appetizers, snacks . . . even recipes for your "cheat days"!

Haylie tackles everything from healthful green smoothies, to drinks for an impromptu gathering, to whipping up an impressive meal for a date. Each recipe is accompanied by full-color photos, along with a personal story from Haylie's life.
The Real Girl's Kitchen shows readers not only how to eat to live, but how to love to eat along the way.
• • • • • • • • • • • • • • • • • • • • • • • • • • • • • • • • • • • • • • • • • •
"The French Market Cookbook: Vegetarian Recipes From My Parisian Kitchen" by Clotidle Dusoulier
Beloved ChocolateAndZucchini.com food blogger Clotilde Dusoulier is not a vegetarian. But she has, like many of us, chosen to eat less meat and fish, and is always looking for new ways to cook what looks best at the market. In The French Market Cookbook, she takes us through the seasons in 82 recipes—and explores the love story between French cuisine and vegetables.

Choosing what's ripe and in season means Clotilde does not rely heavily on the cheese, cream, and pastas that often overpopulate vegetarian recipes. Instead she lets the bright flavors of the vegetables shine through: carrots are lightly spiced with star anise and vanilla in a soup made with almond milk; tomatoes are jazzed up by mustard in a gorgeous tart; winter squash stars in golden Corsican turnovers; and luscious peaches bake in a cardamom-scented custard. With 75 color photographs of the tempting dishes and the abundant markets of Paris, and with Clotilde's charming stories of shopping and cooking in France, The French Market Cookbook is a transportive and beautiful cookbook for food lovers everywhere.
Website
:
Chocolate & Zucchini
BONUS
Here is what Justin is currently reading...
"Horns" by Joe Hill
(Joe Hill is the pen name of Joseph King, Stephen King's son)
The New York Times bestselling author of Heart-Shaped Box returns with a relentless supernatural thriller that runs like Hell on wheels . . .
Merrin Williams is dead, slaughtered under inexplicable circumstances, leaving her beloved boyfriend Ignatius Perrish as the only suspect. On the first anniversary of Merrin's murder, Ig spends the night drunk and doing awful things. When he wakes the next morning he has a thunderous hangover . . . and horns growing from his temples. Ig possesses a terrible new power to go with his terrible new look—a macabre gift he intends to use to find the monster who killed his lover. Being good and praying for the best got him nowhere. Now it's time for revenge . . .
It's time the devil had his due. . . .
So yeah, those are my current books from the hold shelf. If you'd like reviews on any of them let me know!