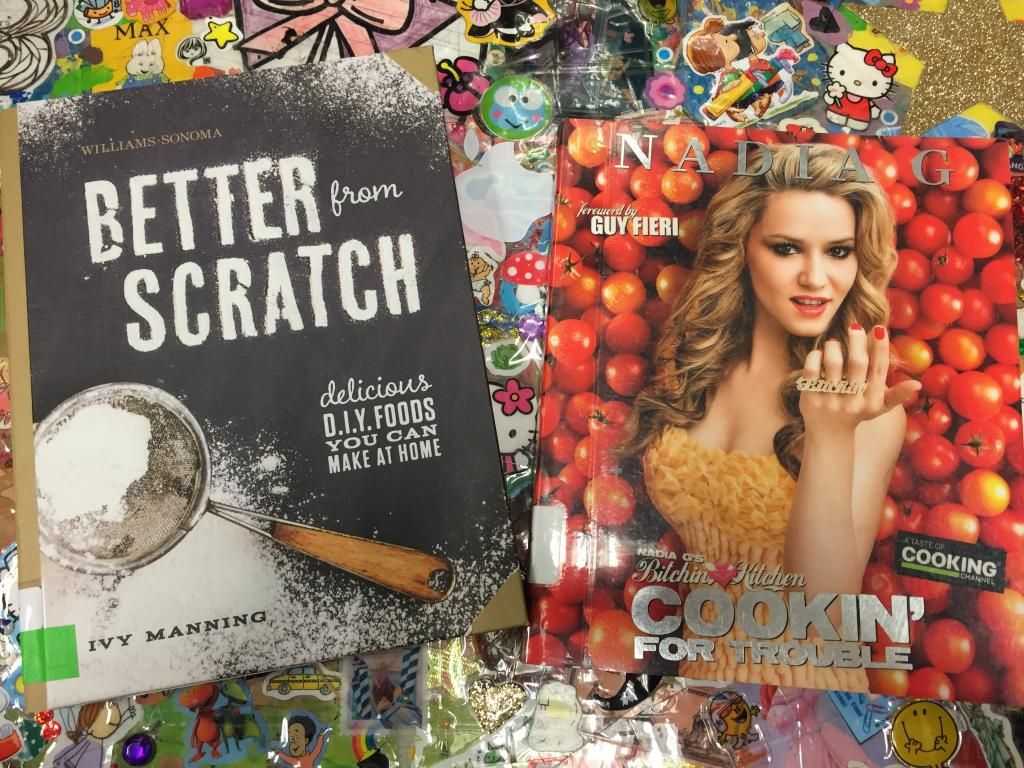 "Nadia G's Bitchin' Kitchen: Cookin' for Trouble" by Nadia Giosia
HAUTE OUT OF THE OVEN—BITCHIN' KITCHEN'S NADIA G IS COOKIN' FOR TROUBLE!

Culinary It-girl Nadia G is just as skilled strutting in stilettos as she is wielding a meat cleaver. Now this Julia Child of the Net generation and host of the wildly popular Bitchin' Kitchen TV show on the Cooking Channel brings her savvy chef know-how and rock star 'tude to glam up your dining experience. Trained at the culinary institute of Hard Wooden Spoon Whacks, Nadia says that her passion for food started in her Italian family's kitchen, where meals became moments. In Cookin' for Trouble, she shares recipes and cooking tips for beginner and seasoned home cooks to liven any occasion.

• Back-of-the-Fridge Bachelor Brunches: Sometimes what lurks in the back of our fridge isn't that inspiring, unless it's been there long enough to strike up a conversation. No groceries, no problem! With just a few leftovers, whip up a scrumptious Sartu di Patate, or a Pasta Frittata that tastes like you'd planned it for days.

• (Dysfunctional) Family Pizza Night: Bring your family and thighs closer together with the Giosia familia recipe for Rustica Pan Pizza, Puttanesca Panzerotti, and Traditional Italian Frittelle smothered in a creamy chocolate-nougat fondue.

• Makeover Meals: We all get stuck in a rut sometimes, whether it's the same boring dish, hairstyle, or boyfriend. It's time for an upgrade! Turn ordinary dishes on their head with inspired crispy Tuna Sliders, smoky Chicken Risotto, and juicy Meatloaf Kebabs.

• Plus Nadia's creative menus for Hi-Speed Suppers, Girl's Night In, Veg-Head Specials, Student Shkoff-fest, and a special chapter devoted to everyone's favorite food group: Bacon!

I know—we had you at "Bacon." But there's more! Loaded with gorgeous photos, more than fifty original recipes, sanity-saving "Nadvice," a Bitchin' Party Guide, and a hunky team of food correspondents—Panos, the Spice Agent, and Hans—Cookin' for Trouble will take your meals from square to sassy faster than you can say "Tsaketa."*

*and for newbies, there's an Italian Slang Dictionary!
Website
:
Bitchin' Lifestyle
• • • • • • • • • • • • • • • • • • • • • • • • • • • • • • • • • • • • • • • • • •
"Better From Scratch (Williams-Sonoma): Delicious DIY Foods to Start Making at Home" by
Ivy Manning
This go-to guide features 60 delectable recipes inspired by everyday food products we tend to buy. From homemade granola and jams to condiments and kimchi, this cookbook is full of easy recipes, helpful tips, and clever ideas for making these favorite items at home. Armed with this collection of do-it-yourself recipes—easy to personalize and customize with the seasons—stock your kitchen with flavor and make delicious gifts for friends and family. You'll start to rethink what goes into your grocery cart when you realize the endless possibilities, and health benefits, of making these favorite foods from scratch.

Whether whipping up your favorite sandwich condiments, fermenting your own sauerkraut, or making beef jerky from scratch, so many kitchen staples, from sauces to snacks, are simply better and more nutritious homemade. This collection of do-it-yourself recipes will inspire you to stock your kitchen with made-from- scratch favorites without the added preservatives, sugar, and unpronounceable ingredients found in similar store-bought products. Organized by savory and sweet items, the recipes span classic to innovative and provide solutions for everyday items, inspiration for new creations, and ways to satisfy salty and sugary cravings. You'll also find expert advice on storing foods, easy and seasonal variations on recipes, and how- to's for DIY food gifts, trendy sodas and cocktails, and entirely homemade snack platters. These modern DIYs, like homemade chocolate-hazelnut spread, nut milks and butters, infused syrups, and vodka-brined olives, will provide just the arsenal you need to create an endlessly inspiring and tasty kitchen.
• • • • • • • • • • • • • • • • • • • • • • • • • • • • • • • • • • • • • • • • • •
In terms of the books from my last "
From The Hold Shelf (Or What I'm About To Read)
" they were all okay. Nothing crazy exciting in any of the cookbooks. And the A Beautiful Mess book was beautiful but none of the projects stuck out as anything I want to do currently, I'll probably pick that one up again when Justin and I have a house and more space to play with.