In honor of DreamWork's upcoming animated film
HOME
coming out on March 27th, I've got a sweet little giveaway for one (1) lucky winner.
When Oh, a loveable misfit from another planet, lands on Earth and finds himself on the run from his own people, he forms an unlikely friendship with an adventurous girl named Tip who is on a quest of her own. Through a series of comic adventures with Tip, Oh comes to understand that being different and making mistakes is all part of being human. And while he changes her planet and she changes his world, they discover the true meaning of the word HOME.
Genre:
Animation, Adventure, Fantasy
Cast:
Jim Parsons, Rihanna, Steve Martin, Jennifer Lopez, etc.
Directed by:
Tim Johnson
Written by:
Tom J. Astle, Matt Ember & Adam Rex
Produced by:
Suzanne Buirgy & Mireille Soria
Rating:
PG
Release Date:
March 27, 2015
One (1) lucky winner will receive a prize pack with the following...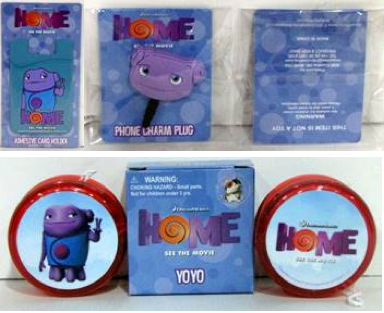 This is a standard Rafflecopter giveaway. In order to win you must leave a comment below about what
HOME
mean to you and follow this blog using Google Friend Connect. You can gain additional entries by doing a number of other tasks listed in the widget below. Good luck!
a Rafflecopter giveaway
And I leave you with Jennifer Lopez's video for "Feel the Light" & a clip of Rihanna's "Dancing in the Dark" both featured in
HOME
(2014). And those
activity sheets
I mentioned last week.
••••••••••••••••• CONTEST ENDS MARCH 16th AT MIDNIGHT •••••••••••••••••
Legal Mumbo Jumbo
No one will be admitted late. This ticket may be used for admission only by the person to whom we issued it; it is not transferable. It has no cash value. The screening will be monitored for unauthorized recording. By attending, you agree not to bring any video or audio recording devices (including, without limitation, cameras) into the venue and you consent to a physical search of your belongings and person for recording devices. If you attempt to enter with a recording device, you will be denied admission. If you attempt to use a recording device during this screening, you consent to your immediate removal from the venue and forfeiture of your recording device and its contents. Any attempted unauthorized recording will be reported to law enforcement and may subject you to criminal and civil liability. We reserve the right to pursue any and all available remedies at law and in equity for any unauthorized recording and/or copyright infringement, including without limitation statutory damages of up to $150,000 per violation, and nothing contained in this notice shall be construed to limit our available remedies and/or legal recourse. You assume all risks of personal injury arising from or incidental to attending the screening, whether occurring prior to, during, or after the event.
This post and giveaway were sponsored but I did not receive monetary compensation. I'll be receiving my own prize-pack identical to the winners.