10 Cloverfield Lane
(2016) is coming out on DVD on June 14th and in honor of that I'm giving away three (3) copies of the DVD to three (3) lucky winner.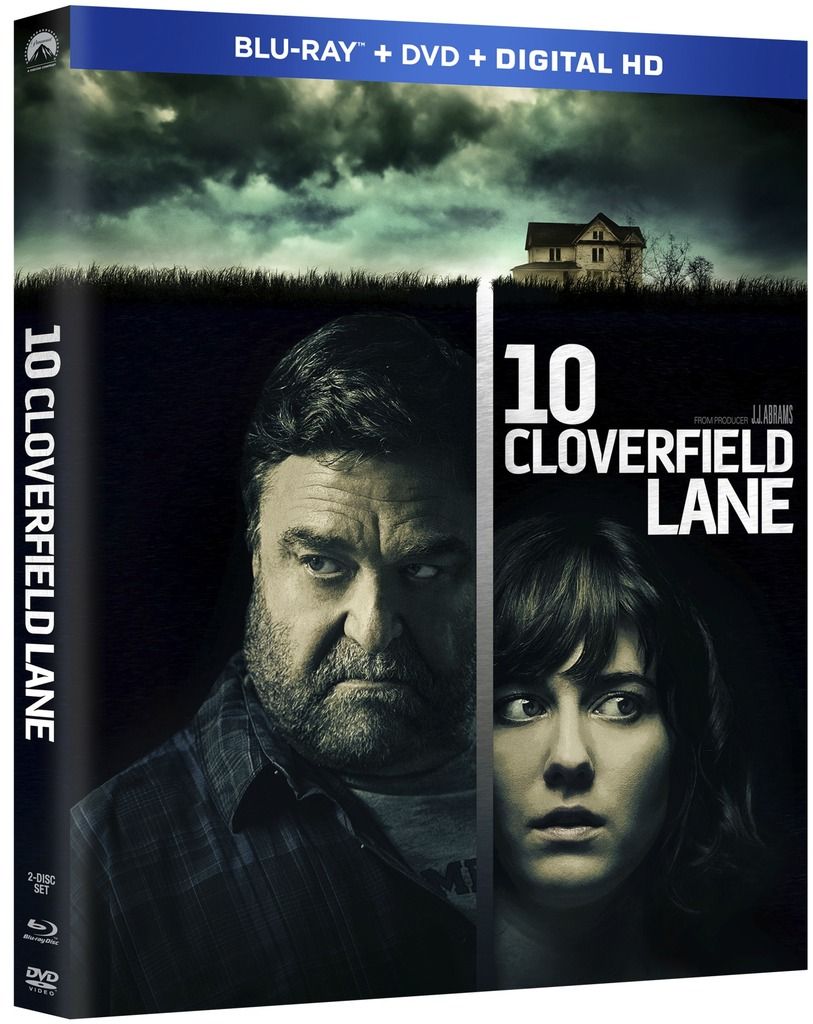 Acclaimed producer J.J. Abrams and up-and-coming director Dan Trachtenberg deliver a new masterpiece that critics are calling "riveting, gripping and loaded with tension" (Scott Mantz, "Access Hollywood") when 10 CLOVERFIELD LANE debuts on Blu-ray Combo Pack, DVD and On Demand June 14, 2016 from Paramount Home Media Distribution. The film arrives two weeks early on Digital HD May 31.
Certified Fresh by critics with a 90% score on Rotten Tomatoes, 10 CLOVERFIELD LANE delivers "heart-pounding fun" (Patrick Stinson, "Made in Hollywood") that will "shock you senseless" (Peter Travers, Rolling Stone). After a catastrophic car crash, a young woman (Mary Elizabeth Winstead, Scott Pilgrim vs. The World) wakes up in a survivalist's (John Goodman, Argo) underground bunker. He claims to have saved her from an apocalyptic attack that has left the outside world uninhabitable. His theories are supported by a mysterious stranger who is in the bunker with them (John Gallagher, Jr., "The Newsroom"), but as his increasingly suspicious actions lead her to question his motives, she'll have to escape in order to discover the truth.
With a shocking finale that "will completely blow you away" (Eric Eisenberg, Cinemablend), 10 CLOVERFIELD LANE looks phenomenal on Blu-ray. The Combo Pack includes Digital HD, commentary with director Dan Trachtenberg and producer J.J. Abrams, and over 30 minutes of special features. Take an extensive look behind-the-scenes with Abrams and the cast as they revisit the legacy of 2008's CLOVERFIELD, and discuss how 10 CLOVERFIELD LANE went from script to production. Continue with a tour of the ominous bunker, see how the costume designer was challenged to create a homemade Hazmat suit, follow the production team and sound designers as they work on the movie's epic finale, and hear the unique scores composed for each character. Plus, for a limited time only, get a bonus Digital HD copy of the original CLOVERFIELD with the Blu-ray Combo Pack.
Genre:
Drama, Horror, Mystery
Director:
Dan Trachtenberg
Produced by:
J.J. Abrams
Writers:
Josh Campbell, Matthew Stuecken
Cast:
John Goodman, Mary Elizabeth Winstead, John Gallagher Jr., Douglas M. Griffin, Suzanne Cryer, Bradley Cooper, Sumalee Montano, Frank Mottek
Rated:
PG-13
This is a standard Rafflecopter giveaway. In order to be one of the three (3) lucky winners you must follow this blog using Bloglovin and leave a comment below telling me what you would do if you woke up in an unknown underground bunker. You can gain additional entries by doing a number of other tasks listed in the widget below. Good luck!
a Rafflecopter giveaway
This post and giveaway were sponsored but I did not receive monetary compensation. I'll be receiving my own 10 Cloverfield Lane DVD.